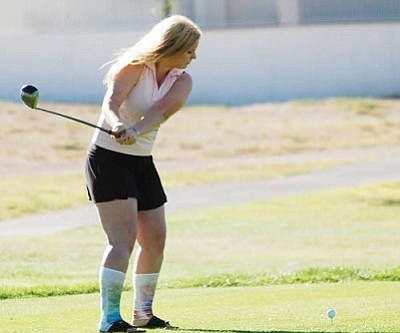 Originally Published: October 14, 2010 6:01 a.m.
KINGMAN - Senior Claire Weisberg played her last round of golf at Cerbat Cliffs Golf Course as a member of the Kingman High girls golf team Tuesday, as Phoenix Xavier took the three-team match by a blistering 52 strokes. The Gators shot 176, KHS took second with 228, and Lake Havasu was third with 237.
"Claire was our most improved athlete for this season," KHS coach Ken Stalsberg said. "She shows up early for every practice, and she demonstrates outstanding sportsmanship all the time."
Weisberg shot 68, which was fifth for the Bulldogs. Taylor Stephens led the way for KHS with 54 and was followed by Haley Moon (56). Visha McCoy came in with 58, and Cassy Canoy finished with 60.
Xavier's Morgan Miller was medalist for the match with a 1-over-par 37.
KHS has just two matches remaining this season, including the Mountain Ridge Open Girls Tournament Saturday in Glendale. Next week, KHS competes in the Northwest Region tournament.
Only one Bulldog will make the trip to this year's state tournament. Moon has passed the necessary five qualifying scores with seven and will represent KHS.
More like this story