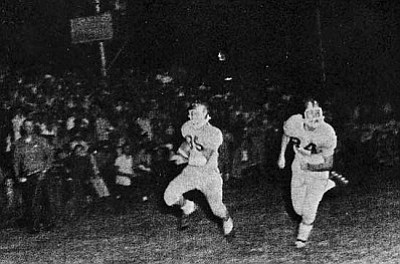 Originally Published: October 15, 2010 6:01 a.m.
KINGMAN - The Bulldogs are 3-3, and talk of playoff possibilities has begun. It's been a while since Kingman High has advanced past the regular season, but playoffs and KHS football go back a long time. It was 50 years ago this season when the Bulldogs made their first appearance in the postseason.
There were a couple of seasons, 1937 and 1956, when KHS laid claim to "mythical" state championships. In 1937, they shared that title with Superior and Buckeye in Class B, but without playoffs in those years, a true champion was never given the chance to be crowned. And, in 1956, playoffs were still not in place.
There was an immense amount of pride on that 1960 Bulldogs team being the first KHS squad to play in the playoffs, and players still remember that season with fondness.
"We have certainly held our heads high," said Carlos Lucero, who was the quarterback of that team as a junior. "We had a great bunch of guys."
KHS began that season 3-0, beating up on Yuma Kofa, Holbrook and Agua Fria. The Bulldogs suffered a non-league loss to Boulder City, Nev., 26-21, despite holding a 14-0 first-quarter lead.
KHS then beat undefeated Peoria in the Bulldogs' Homecoming Game before they lost their second game of the season to Phoenix Christian on a rain-soaked field in Phoenix, 13-7.
The Bulldogs still had a chance for the Northwest League championship but needed to win their final two games. KHS did just that by shutting out Tolleson 39-0, and then Buckeye, 19-0.
"Most of our starters on offense and defense were seniors and went both ways," said Chuck Cook, a junior lineman for the '60 Bulldogs. "We always had a lot of fans at home games. Kingman football was the only game in town, and the business people, townspeople, ranchers and everyone else would all come. There weren't enough bleacher seats at the old football field."
The KHS varsity roster included Ralph Stayner, Richard Neal, Phillip Tapia, Dick Grounds, Bill Brakeman, Mark Dunham, Carlos Lucero, Manuel Esquibel, Steve West, Jim Rutz, Bob Hendricks, Hank Kimball, Ken Cofer, George Campbell, George Dunkhorst, Jim Weinke, Dale Standerfer, Larry Seay, Bill Logas, Chuck Cook, Leonard Seaborn, Glenn Walker, Steve Brock, Doc McClain, Pat Legg, Danny Prentiss, Mike Joy, Eric Bond, Dan Roy, Jack Wescott, Chris Castillo, Don Webb, Tony Iningus, Andy Sampson and Tommy Peterson.
Bill Watson and Bruce George were managers, and Charles Orr, Dave Cunningham and Charles Cook coached the Bulldogs.
The 1960 Bulldogs went 6-3 and were upended by Arcadia by two touchdowns in the first round of the Class A playoffs. That was the first year Arcadia had a senior class. Arcadia was built to ease overcrowding at Camelback and Scottsdale, two Class AA schools, and had a much larger enrollment than Kingman.
"The playoff loss did not diminish the first playoff season ever for a Bulldog football squad," Cook said.
"The Bulldogs earned the respect of the other schools, and teams dreaded coming to Kingman to engage KHS for years after that season."