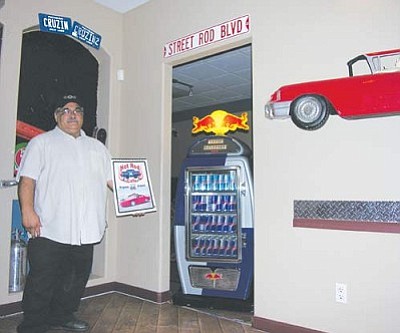 Originally Published: October 21, 2010 6:01 a.m.
KINGMAN - More than three years after closing its doors, the Hot Rod Café is being reincarnated, appropriately enough, from the ashes of the defunct Phoenix Grill.
Vito Lombardo, the owner of Lombardo's Italian Restaurant and also the former owner of the Hot Rod Café, announced his plans to reopen the once-popular diner in the former Phoenix Grill building at 2215 Hualapai Mountain Road, Suite A.
Previously located at the northwest corner of Stockton Hill Road and Andy Devine Avenue, the original Hot Rod Café closed in 2007 following its purchase by Walgreens. The drug store chain later demolished the restaurant and several other buildings along that block in order to erect a new store, which opened earlier this year.
"We were forced to close there," Lombardo said.
"The landowners put it up for sale and right away Walgreen's bought it, but the time we were there we had a very nice, successful breakfast and lunch deal going on there.
"And I love the hot rod theme, the old cars and all that stuff, and it was always a lot of fun there for me."
In the intervening years, Lombardo said regulars of the café would often ask him when he planned to reopen, but he didn't see the opportunity until this year, when the Phoenix Grill shut down in early August. He quickly took steps to lease the building, and has already begun bringing in some of the old café's memorabilia in preparation to reopen it.
"I'm waiting on some of the stuff that we want to display - we're trying to get an old dragster to put outside," he said.
"Our menus are going to be rotating pictures of all the local hotrods; I'll select pictures of local cars and then we put them throughout the menu, with one displayed on the cover, then every couple of months we'll redo them with new pictures of people's cars."
Lombardo said he also plans to bring back all the café's breakfast, lunch and dinner items as well, plus some new additions.
"We've got the bar that used to be in there, which we're going to turn into a soda fountain with desserts and all kinds of crazy sundaes and banana splits," he said. "We're going to actually make the sodas with soda waters and syrups and all that, so there'll be 100 different ways you can get something to drink."
Breakfast cuisine will include the standard diner fare, in addition to specialties like hash brown skillets, homemade biscuits and gravy and fluffy Belgian waffles. Lunch, meanwhile, will consist of hamburgers and cheeseburgers as well as regional sandwich favorites from big cities like New York and Chicago and "wet burritos," a sort of cross between a burrito and an enchilada. Dinner will include more traditional items like meatloaf as well as all-you-can-eat fish and chips on Fridays and deep-fried, hand battered onion rings.
"It's all homemade food, that's my big thing in no matter what I do," Lombardo said.
Lombardo has already been in talks with several of the classic car clubs in town, offering them discounts to get them to come out on the weekends to add to the classic atmosphere, and he's also preparing to open the patio area of the restaurant to facilitate a disc jockey on Thursdays, Fridays and Saturdays.
The Hot Rod Café does not yet have a scheduled opening date, but Lombardo said he is aiming to have it open by early- to mid-November. Hours of operation are currently planned as 7 a.m. to 9 p.m. Monday through Friday, with later closing times on Saturdays and Sundays. For more information, call Lombardo's at (928) 753-4100.
More like this story