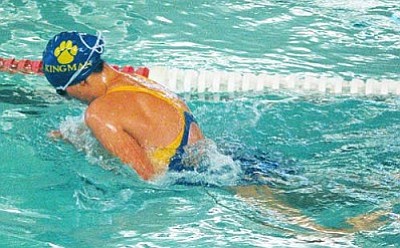 Originally Published: October 24, 2010 6 a.m.
KINGMAN - The regular season for the Kingman High swim teams came to its conclusion Wednesday at the Del E. Webb Wellness Center. The Bulldogs hosted a double-dual meet with Lake Havasu and Anthem Boulder Creek making a visit.
On the boys side, KHS out-swam Havasu 56-38 but fell to Boulder Creek, 57-37.
Sophomore Austin Bracken won the 100-yard freestyle for the Bulldogs in 56.37 seconds. Freshman Patrick Webb was KHS' only other event winner. He was first the 500 freestyle in 5:44.25.
In girls action, KHS dropped both duals. Havasu beat the Bulldogs 57-37, and Boulder Creek won, 69-24.
Jamie Rose was the only winner for the KHS girls team. She won the 50 freestyle in 27.63.
The two teams are gearing up for the Northwest Region meet, which will be held Friday and Saturday at the Surprise Aquatic Center. It's the last chance for the Bulldogs to post qualifying times for the state meet Nov. 4 and 6.