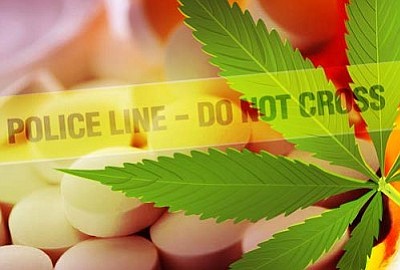 Originally Published: October 24, 2010 6 a.m.
KINGMAN - Kingman Police seized more than 50 pounds of marijuana and 1,000 Ecstasy pills during two separate traffic stops last week.
The first drug seizure came Monday morning after officers stopped 36-year-old Kansas resident Mooda Shiraz Mantara Jr. for running a red light in the 1200 block of Beale Street.
Mantara reportedly gave officers consent to search the vehicle, and around 1,000 Ecstasy pills were found hidden in the trunk. He was booked into the Mohave County Jail on charges of felony transportation of dangerous drugs for sale and possession of drug paraphernalia.
The second seizure came just a day later when three California residents were stopped around 9:30 a.m. Tuesday. Officers stopped the older model Dodge Durango on Interstate 40 for not having a visible license plate registration.
KPD Lt. Rusty Cooper said officers noticed some items in plain sight and smelled an odor of marijuana. They searched the vehicle and found 51 pounds of marijuana in plastic bags hidden under vegetation in the back, as well as $3,000 in cash.
Two of the suspects had California-issued cards for "medical marijuana." They were reportedly headed for the Midwest.
Arrested were Sakhone Nanthadeth, 42, of Fresno, Souriyan Outhoumphanh, 36, of Sacramento, and Joy P. Sounthone, 42, of Fresno. They were booked into the Mohave County Jail on charges of transportation of marijuana for sale, possession of marijuana and possession of drug paraphernalia.