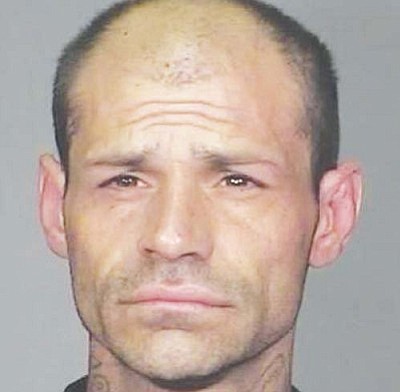 Originally Published: October 26, 2010 5:59 a.m.
KINGMAN - A burglary suspect was not seriously injured when he was shot by a Valle Vista resident who interrupted a burglary on his property last week.
Mohave County Sheriff's spokeswoman Trish Carter said a resident of the 9900 block of E. El Norte went to a large metal structure on his property to retrieve some equipment around 1 p.m. Wednesday, Oct. 20, when he noticed the lock on the door was broken. The man went back to his truck to retrieve a gun, entered the structure and noticed items strewn about. He then found the suspect, later identified as 37-year-old Jeffrey Alan Cooley of Golden Valley, hiding behind some boxes.
The homeowner ordered Cooley out of his hiding place and down a set of steps. Carter said Cooley then picked up a shotgun that was lying around, but was informed by the homeowner that the gun wasn't loaded.
Carter said Cooley then ran to the homeowner's truck but was thwarted again when he realized the man still had the keys to the vehicle.
It was at this point, Carter said, Cooley charged the homeowner, who fired a gun filled with buckshot at Cooley, who was struck on his right side. Cooley then fled into the desert and the homeowner called Sheriff's deputies, who began canvassing the surrounding area and questioning neighbors.
Neighbors told deputies which homes should be empty at that time of day, Carter said. At the same time, the Kingman Air Ranger took to the rainy skies to track the suspect.
According to Cooley's statements to authorities after his arrest, he ran and hid in a nearby trailer before hearing the Air Ranger circling above and taking off again. Deputies later spotted him walking around a property where they were told that no one should be home.
Carter said the Air Ranger helped direct deputies where to go before they were finally able to take Cooley into custody. He was then transferred to Kingman Regional Medical Center and treated for buckshot wounds to his right side, running from his bicep area to his buttocks.
He was released from the hospital the same day and booked into the Mohave County Jail on charges of aggravated assault with a deadly weapon and first-degree burglary. The homeowner is not facing any charges.