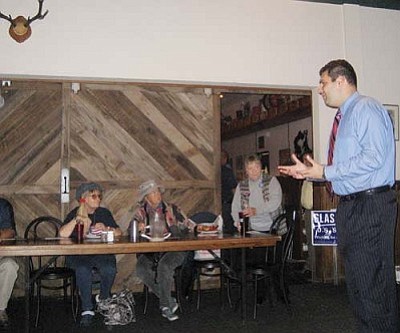 Originally Published: October 27, 2010 6:01 a.m.
KINGMAN - The candidates are making their last rounds of Mohave County before the Nov. 2 General Election. Democratic U.S. Senate candidate Rodney Glassman was in Kingman Monday evening to rally his supporters.
"The next seven days are not about the Democrats and the Republicans. It's about us. It's about jobs, education and illegal immigration," Glassman said.
He said in the last 30 days he visited all 15 counties in the state. People all over the state are facing the same two problems, he said, high unemployment and poor schools.
"There are two problems in D.C., the Republicans and the Democrats," he said. Sen. John McCain has been in office for the last three decades and the state hasn't been able to move forward because of his leadership, Glassman said. "When was the last time you heard my opponent talk about the future," he said. "I want to be a great senator for this country and that starts with serving Arizona first."
"This year is about jobs and education," he said. The country should be working on creating jobs through innovation. Arizona should be the solar capitol of the nation, but it is importing solar products from Europe and China. Phoenix has a light-rail system that was designed and built in China. The U.S. has exported its manufacturing and its jobs to other nations, Glassman said.
Arizona has the educational institutions and resources to do some really great things, but they need to be funded, and McCain hasn't been willing to bring the money back to the state to fund those types of projects, he said. He called for a business tax credit that would support small businesses because small business in turn supports education and create jobs.
"We need a senator that is committed to getting things Arizona needs," Glassman said.
A woman asked if Glassman could do anything about the funding cutbacks to the Arizona Health Care Cost Containment System. "Everyone should have access to the same healthcare that Congress gets," he said. McCain doesn't care about making the current healthcare bill better. He only cares about what is important to him, Glassman said.
A man asked if Glassman was willing to defend the federal healthcare bill that passed this year.
"It's not a great bill, but it's a start," Glassman said. "Any bill that can be described (by U.S. House of Representatives Speaker Nancy Pelosi) as '2,000 pages I haven't read, but we're going to pass it anyway,' isn't a good bill."
And McCain wasn't much better. After losing the vote, he swore off talking to the Democrats, Glassman said.
"People weren't willing to have an honest conversation," he said. "We need a senator that is willing to go back and make this bill better."
Another person asked about the federal income tax cuts that are due to expire in December.
"We need a new tax code, but neither side wants to resolve the issue," Glassman said. If those tax cuts expire, both the rich and the poor will suffer from an increase in taxes during a downturn in the economy. He called for the tax cuts to be continued for at least two years so that Congress could discuss the tax code problem.
Glassman was also asked about the problem with expiring unemployment benefits. "We need a public works project," he said, something that would get people working again, whether it was pulling weeds along roadsides or reading to children in schools. "Every state has something that needs to be done."
A woman asked Glassman what he would do with the banking situation. "We need to get banks back in the business of lending," he said.
"We need a senator that cares about Main Street, not Wall Street."
John Thrasher, the Democratic candidate for the U.S. House, will speak at 6 p.m. Thursday, Oct. 28, at VFW Post 10386, 3036 E. John L. Ave. He is running against Rep. Trent Franks.