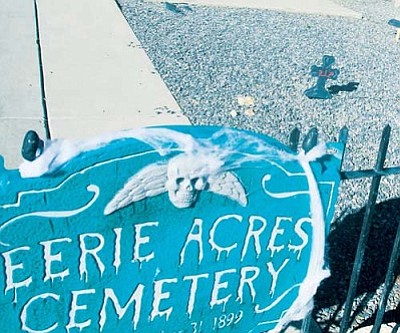 Originally Published: October 28, 2010 6:01 a.m.
KINGMAN - This year's Halloween festivities have something for everyone, including the family pet.
Kids can get a jump on the holiday fun at 4 p.m. Friday, Oct. 29, with a Halloween costume parade, pumpkin decorating contest and goodies at Hualapai Mountain Medical Center's Café, 3801 Santa Rosa Drive.
There's more free fun for the kids Friday at Mohave Community College's annual Pumpkin Festival. The festivities start at 5 p.m. at the college, 1971 Jagerson Ave., and include a free trick-or-treat trail.
The adult fun starts at 5 p.m. Friday with a Karaoke party at the Heidenreich Center, 1776 Airway Ave.
There will be free food, games, dancing and costume contests.
Adults can keep dancing the night away at the Halloween Dinner Dance at the Elks Lodge, 900 Gates Ave. Dancing starts at 7 p.m. The cost is $3 for an individual and $5 for a couple. The proceeds go to the Kingman Boys and Girls Club.
The holiday goes to the dogs on Saturday, Oct. 30, with For the Luv of Paws' Howl-oween Dog Adoption Day starting at 10 a.m. at Stockton Hill Feed, 4250 Stockton Hill Road.
Adults can have a little Halloween fun and pick up a few treats Saturday starting at 5 p.m. at the Annual Chloride Adult Halloween Party at Yesterday's Restaurant, 9827 2nd St. in Chloride.
Adult ghouls and goblins can continue to monster mash the night away Saturday at the Monster Masquerade Dance at 7 p.m. at the Avi Resort & Casino, 10000 Aha Macav Parkway, Laughlin.
Mutt Matchers and Friends start the fun early on Halloween Day with its Muttster Dash at 7:30 a.m. and 5K human Howl-O-Ween race at 8 a.m. The race starts and finishes at Mutt Matchers and Friends Adoption Center, 1001 Buchanan. Registration forms are available at Mutt Matchers and online at mmfhowloween.blogspot.com. Packet pick-up is from 3 to 5 p.m. on Saturday, Oct. 30. Race day registration starts at 6:30 a.m.
Adults looking for a way to burn off some of the candy they've been sneaking can join the Halloween Howl Disc Golf Tournament at 8 a.m. on Sunday at Firefighters Memorial Park, 2001 Detroit Ave. The cost to enter the tournament ranges from $10 to $30 depending on age and ability. The proceeds go to the Mohave County Senior Meals program. For more information, visit www.kingmandiscgolf.com.
Rescue Unwanted Furry Friends Foundation continues the howling good fun at noon on Sunday, Oct. 31, with its annual Halloween Bowling Fundraiser at the Riverside Resort, 1650 S. Casino Drive, Laughlin. The fun includes a costume contest, a RUFFF-le and silent auction.
Kids can add to their candy collection at 4 p.m. Sunday with the 8th Annual Route 66 Cruizers Halloween Bash and Walmart's spooky haunted place at the Boys and Girls Club, 301 N. 1st St.