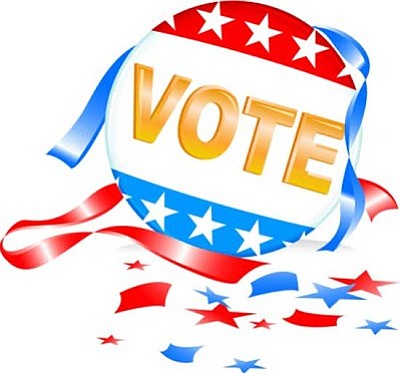 Originally Published: October 29, 2010 6:01 a.m.
KINGMAN - Internet rumors of voter registration fraud in Arizona are overrated, according to Arizona Secretary of State Ken Bennett.
The office recently investigated rumors posted on Internet blogs that a handful of Get Out the Vote groups had turned in a large number of fraudulent voter registration forms at county elections offices, especially in Yuma, Maricopa and Pima counties. The allegations were found to be without merit, according to a news release.
"As Arizona's chief elections official, I take seriously any allegations of fraud in our election process. As soon as these accusations came to light, we got in contact with elections officials in Yuma County and across Arizona to determine if a fraudulent scheme was a foot," Bennett said in the release. "With our initial inquiry complete, I'm happy to report that these latest allegations of rampant registration fraud are without merit."
The office did receive a number of requests last week for early ballots from Get Out the Vote groups that were rejected because the voter was already registered to receive an early ballot.
It also received a number of voter registration forms right before the Oct. 4 registration deadline that were rejected for one reason or another. However, after contacting all of the county Voter Registration Offices in the state, the secretary of state's office could find no coordinated attempt by any group to circumvent the voter registration or early ballot system.
Mohave County Voter Registration Supervisor Kim Stewart confirmed that her office had received an e-mail from the secretary of state's office a few days ago about the issue. She had the office check all of the registrations and early ballot requests and found nothing amiss.
The office did get some duplicate and even triplicate requests for early ballots, Stewart said. There are a lot of groups that do voter registration drives and mail out voter registration or early ballot forms to residents. A lot of people get these forms in the mail and can't remember if they've already sent in a registration form or ballot request, so they send it in again, she said. Residents shouldn't worry; the voter registration system alerts staff to duplicate requests, so no one will receive more than one ballot, Stewart said.
For the November election, the Mohave County Voter Registration Office sent out 17,250 early ballots. So far it has received around 11,000 back. Stewart is asking voters who have requested an early ballot to mail them back as soon as possible or deliver the completed ballot to the polls on Nov. 2.
Stewart encouraged voters who don't think their early ballot will get to the Voter Registration Office before the November election to drop the completed ballot off at the polls and avoid having to vote a provisional ballot on election day.
It is expensive to mail the ballots out, she said - it costs approximately 51 cents to mail them to voters. It cost the county nearly $3,000 in postage to mail those more than 6,000 missing ballots out. If a voter decides to go to the polling place and cast their vote as a provisional ballot instead of mailing their early ballot back, the county has to pay for both the postage and the cost of researching a provisional ballot.
Provisional ballots require extra work by everyone, Stewart said. Voters have to wait while staff check records before they can receive a ballot on election day and then staff has to check it again before the vote can be counted.
Polls will be open from 6 a.m. to 7 p.m. Tuesday. To find your polling place, call Voter Registration at (928) 753-0767.
More like this story