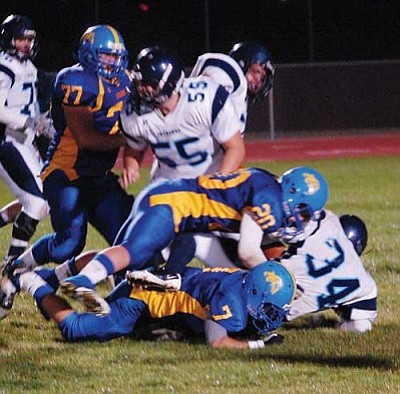 Originally Published: October 31, 2010 6 a.m.
KINGMAN - What looked like a promising start for the Kingman High football team ended up with a sour finish as O'Connor picked the Bulldogs apart in the first half en route to 49-20 Northwest Region win Friday in Phoenix.
KHS (3-6, 2-5 Northwest) took the opening kickoff and behind a solid short passing game, began moving the ball against the undefeated Eagles. Three procedure penalties by the Bulldogs killed the drive and KHS was forced to punt.
"You play like you practice, and that's what we did in the first series," KHS coach Rob York said. "It was our worst week of practice all season as we lacked focus. We had nine penalties in the first quarter, all procedure penalties. That's how we practiced all week."
O'Connor (9-0, 6-0) took advantage of the opportunity, drove down the field and took a 7-0 lead with five minutes left in the quarter.
KHS took that kickoff and began moving the ball, but penalties added up again to force the Bulldogs to punt. O'Connor took control and led 14-0 at the end of the first quarter.
"O'Connor is as good as we thought," York said. "They're bigger than they were last year but not as disciplined. But they are frickin' good."
O'Connor scored three touchdowns in the second quarter, as KHS quarterback Dylan Smith was intercepted three times. The Eagles led at the half, 35-0.
"We worked the short stuff," the coach said. "Dylan at times threw real well and others not so well."
Smith completed 25 of 32 passes for 234 yards, a touchdown and the three interceptions. Smith has 1,562 yards passing on the season and is the No. 3 all-time single-season passer at KHS. Jason Edwards passed for 1,867 in 1993, and Travis Hill had 1,671 in 1990.
The Bulldogs got their first score in the third quarter when Danny Gonzalez went sky-high for an interception and returned it 22 yards for a touchdown.
O'Connor answered with two more scores go up 49-6 before KHS added their final scores in the fourth quarter. Gabe Lumas pulled in a 14-yard touchdown reception from Smith, and then the quarterback scooted 20 yards for the Bulldogs' final score. Marius Freytag added both PATS.
Lumas finished with six catches for 76 yards, and Sean Jordan had 8 catches for 72. Smith used eight different receivers.
Defensively, Cody Schoonover led KHS with 10 tackles, including three for losses and a sack.
KHS wraps up the season at Lake Havasu Friday. The Knights sent the Bulldogs reeling in the season opener, 33-0.
"The phrase of the week will be payback," York said. "We have to have a focused week of practice. Last week, I left it on the kids and they got lackadaisical. That's not going to happen this week. We are going to have a good week of practice."
More like this story