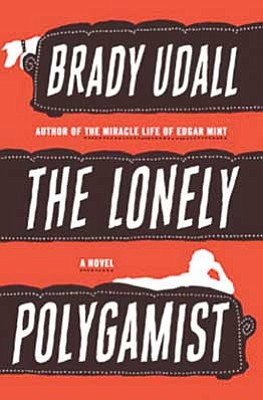 Originally Published: September 3, 2010 6 a.m.
"The Lonely Polygamist" by Brady Udall; 978-0-393-06262=5; 572 pages; $26.95; May 2010; hardcover; novel; W. W. Norton & Company.
Discovery of an old cultural taboo, polygamy, is the theme of "The Lonely Polygamist."
Golden Richards has four wives and 28 children. His relationships are described in vivid detail, showing how he interacts with his family even though they live in different homes. Richards is a nice man, and his daily encounters with family life as a polygamist are downright funny. He coped with problems by isolating himself from the interaction which normally would go on between a man and his spouse.
This is not a book for the faint-hearted, as it is adult reading, not smutty, but the use of realistic language should be expected. Golden is not a saint by any means, but at the same time, he has a set of morals which come through in the way that he treats his wives and children.
Written in a style reminiscent of many wonderful authors of the past, this story gives insight into the nuances one would expect when Golden visits his wives in their respective homes to have connubial relations. One of his wives takes on the responsibility of scheduling his visits, but occasionally, he fails to show up! Golden is not the stud one would expect to find in such a paradise; at times he is impotent.
We see the sensitive side of Golden as he deals with the death of one of his children who had been born disabled. Empathizing with his grief, the reader feels his genuine sorrow. Udall's descriptive prose really conveys the essence of a father's loss.
In reading this novel, one wonders who wrote this book. Was the author close to Mormon life, or was he writing about what he fantasized it would be? The answer was not in the book but in the material which accompanied it for publicity purposes.
Brady Udall was raised in a Mormon family, his great-great grandfather was a polygamist, and he says that he would not exist if polygamy didn't exist. Briefly put, Udall opines that people are fascinated with polygamy for only one reason: sex.
This novel compels the reader to read on with its interesting characters and their interactions, which are so totally bizarre and complex that one is compelled to find out what will happen next.
Publisher's Weekly
Best-Sellers
Aug. 23
Fiction
1. The Postcard Killers; James Patterson and Liza Marklund.
2. The Girl Who Kicked the Hornet's Nest; Stieg Larsson, translated from the Swedish by Reg Keeland.
3. The Help; Kathryn Stockett.
4. Tough Customer; Sandra Brown.
5. The Cobra; Frederick Forsyth.
Non-Fiction
1. The Power; Rhonda Byrne.
2. Women Food and God; Geneen Roth.
3. Sh*t My Dad Says; Justin Halpern.
4. Committed: A Skeptic Makes Peace with Marriage; Elizabeth Gilbert.
5. Empire of the Summer Moon: Quanah Parker and the Rise and Fall of the Comanches, the Most Powerful Indian Tribe in American History; S.C. Gwynne.
Clark Isaacs is an accomplished book critic who is published in local newspapers and national book review lists. He is also a faculty member of Mohave Community College in Kingman.