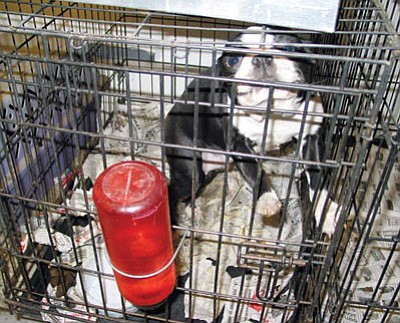 Originally Published: September 5, 2010 6 a.m.
KINGMAN - A puppy ranch cited last year for forging health documents was cited again last week, this time for operating a kennel without a permit and cruelty to animals.
The Mohave County Sheriff's Office received information recently that K & S Puppy Ranch in Golden Valley did not have a permit and was selling sick dogs.
Deputies served a search warrant on the facility in the 3800 block of North Bryce Road Thursday morning and reportedly found 21 dogs, 10 cats, three pigs, six horses, six goats, 15 birds, 25 chickens, a goose and a duck.
Trish Carter, spokeswoman for the Sheriff's Office, said a number of the animals did not have water. Water bowls that were present for some animals, such as some parrots and cockatiels, were filled with dirty liquid that appeared not to have been changed in some time, she said.
Animals were found throughout the house in small cages. One calico cat was found inside a cage with a dead kitten. There was no litter box for the cat, Carter said, and all of the cages were dirty with animal waste.
The 21 dogs included poodles, standard poodles, pugs, Yorkshires, Australian shepherds and great Danes. A great Dane and a standard poodle were described by Carter as being extremely thin.
The owner of the puppy ranch, 58-year-old Karen Grogan, was not there at the time the search warrant was executed. She was arrested later that afternoon on a failure to appear felony warrant issued out of Mohave County Superior Court last month for a civil case involving creditors.
She faces charges of cruelty to animals, operating a kennel without a license and three counts of no dog license, all considered misdemeanors.
The co-owner of the property was also cited for operating a kennel without a license, which is considered a misdemeanor building code violation.
Grogan, along with Shirley Williams, was cited last year after the Sheriff's Office said the pair falsified health certificates for dogs sold at the ranch, forging the names of veterinarians on documents that gave a clean bill of health to dogs that were never examined.
That investigation began after a customer said they were sold a dog that had Parvo, even though the ranch provided documentation that the dog had been found to be healthy.
No contact information could be found for Grogan or the ranch.