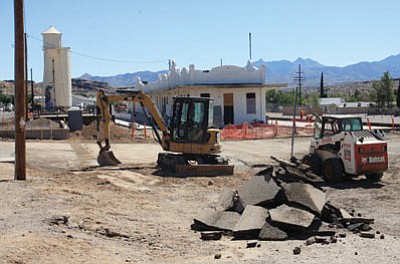 Originally Published: September 7, 2010 6 a.m.
KINGMAN - The Kingman City Council will hold its final 6 p.m. meeting today in recognition of the Labor Day holiday. All subsequent meetings will begin at 5:30 p.m. on the first and third Tuesdays of the month.
During the meeting itself, Councilmembers will consider possible changes to the number of members currently allowed on the Economic Development and Marketing Commission. The commission, which was formally split off from the Tourism Development Commission late last year, was originally created with 11 members in order to allow it to break up into subcommittees. After sustaining several resignations, however, the commission has had difficulty meeting in recent months due to members' inability to establish a quorum.
Council will consider possibly revising the commission's membership downward to nine or even seven members. The commission currently has eight extant members and three vacancies, though commissioner Mike Dellar recently announced an extended leave of absence, reducing their effective number to just seven.
Council will also consider approving the installation of 10 motorcycle safety signs around town. The signs were initially requested at the Aug. 2 Council meeting by Margie Ferrucci, the vice president for American Brotherhood Aimed Toward Education of Arizona, a non-profit organization focused on motorcycle rights, education and safety.
Ferrucci has requested and the Traffic Safety Committee has recommended the creation and installation of 10 permanent, rectangular metal signs that feature a silhouette of a motorcyclist and the words "Look Twice for Motorcycles," colored either black on yellow or white on blue.
The signs are estimated to cost $70 apiece, or $700 total, and would come from the Street Department budget. Placement locations would be worked out between city staff and ABATE.
Additionally, Council will revisit the issue of adding new regulations to off-premises electronic billboards. Since June, the city has been looking at possible regulations for the billboards, following its introduction of new regulations for on-premises electronic business signs. In August, the Planning and Zoning Commission vote 6-0 to recommend an amendment to the city sign code for electronic billboards.
The amendment as worded would allow electronic billboards to be placed no less than 600 feet apart from one another, or 300 feet from an existing billboard with a static or tri-vision display. The amendment would also impose a minimum message duration of eight seconds for electronic billboards, and would only allow static images with limited transition animation.
The new regulations would also require all electronic billboards to come equipped with an automatic light sensor to adjust the sign's brightness as ambient light conditions change, and billboards' nighttime brightness would be limited to no more that 0.6 candelas above the surrounding light level, as measured from 100 feet away.
Finally, the proposed regulations would allow existing billboards to be converted to electronic technology only if they already meet the city's existing billboard standards.
The meeting will also include a lengthy consent agenda. The consent agenda, which is usually passed with a single Council vote, includes a $61,000 change order to the Kingman Train Depot rehabilitation project to repair concrete fascia along the depot's overhang, something that had gone unnoticed prior to the project's start.
Today's Council meeting will be held at city hall, 310 N. Fourth St. For full agenda details, visit www.cityofkingman.gov and click on "Agendas, Minutes and Video."