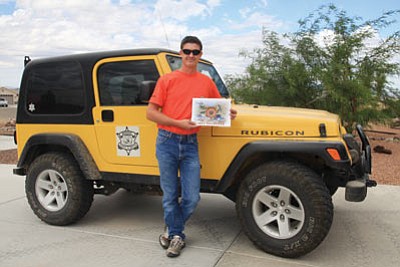 Originally Published: September 8, 2010 6:01 a.m.
KINGMAN - Several years ago, the Mohave County Search and Rescue team was dispatched to the Flagstaff area to look for two young Mesa brothers who had gone missing during a camping trip.
Overnight temperatures dipped below freezing, and the boys, ages 15 and 8, had been missing for two days. The Kingman unit of SAR, which included Luis and Paula Vega, joined the search on the third day.
Luis, a geologist, looked at a topographic map of the area and narrowed the search to an area he felt the boys were likely to be. His wife, Paula, was with a group that picked up the boys' tracks in the snow in that area - one pair of footprints, followed by a smaller pair.
They continued the search by road, combing the area and stopping to call the brothers' names. Paula was the second in line of a caravan of vehicles when the searcher behind her came over the radio and said he had spotted the boys. They were cold and hungry, but they were alive and in relatively good shape. "It was kind of like it was meant to be," Paula said.
Not all search and rescues end so happily. Luis Vega has been a member of the Kingman SAR unit since 1998. He's responded to such incidents as helicopter crashes in the Grand Canyon and an airplane crash in the Aquarius Mountains. As the rope team captain, he was one of three rescuers who repelled into the mine where two Chloride sisters, ages 10 and 13, fell in September 2007. The older girl did not survive the fall.
"It does take an emotional toll, but we have a philosophy that if we were out there, or it was a family member, we'd want someone out there looking for us," Luis said.
There are currently 28 active members of the Kingman SAR unit. The entire Mohave County SAR team, which includes Bullhead City and Lake Havasu City, has around 90 members. Most are experienced outdoors enthusiasts willing to make themselves available to calls for help 24/7.
Jarod Marks joined the Kingman unit six months ago. He grew up hunting, fishing and hiking. He has several family members who also participate in search and rescue.
"It's a way to get out and contribute, to basically return the favor to the community," Marks said.
Search and Rescue do not receive federal or state funding for anything other than the reimbursement of fuel during a mission. Each member must purchase their own personal gear, such as flashlights and packs. Specialized gear, such as radios and ropes, are paid for through fundraisers.
The group holds two major fundraisers a year, including the annual raffling of a rifle at the county fair and a magic show in April.
This year the group has added a new twist and made a calendar featuring pictures from past rescues. The calendars, which sell for a $10 donation, will be available at the group's booth at the Mohave County Fair, held at the fairgrounds Sept. 16-19.
Whether it's searching for an Alzheimer's patient who has wandered away from home or a hiker lost in the Hualapais, most calls for help come into 911. The dispatcher takes the information and then contacts Search and Rescue coordinators, who contact individual searchers. All members must have four-wheel drive.
"Most people wait until dark, and when someone hasn't returned, then they start panicking," Luis said. "We usually get the call just about the time I'm falling asleep."
Rescuers leave their house with enough equipment, food and water to get them through 24 hours. If they are assisting with a search in another county, they stock up for 48 hours.
The Vegas said most people who require assistance from Search and Rescue units are not prepared for the weather or conditions of where they go. They then get stuck and think hiking out is their best option. It almost never is, Luis said.
"The No. 1 mistake people make when they get lost or stuck is leaving their vehicle," Luis Vega said.
"We almost always find the vehicle first and then track people from there."
For more information on the group, visit www.azmohavesar.com.