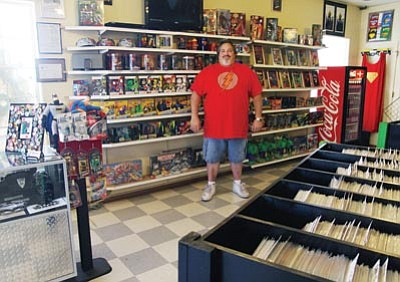 Originally Published: September 13, 2010 6 a.m.
KINGMAN - Children and adults alike have been collecting comic books for the better part of a century now, but until just recently, Kingman collectors were forced to either drive to Las Vegas or Phoenix if they wanted to find anything resembling a traditional comic book store.
But just as great power comes with great responsibility, so too does great demand eventually produce great supply. And fortunately for Kingman, David and Cora Nolin have got one great supply.
Recently retired from their California-based construction and jewelry businesses, David and Cora came to Kingman in January, bringing with them more than 35 years' worth of collected comics.
"I'm an avid Superman fan, and my wife loves Wonder Woman," David said. "That's how we got started."
Upon coming to Kingman, however, it didn't take long for the Nolins to figure out that the local comic book market was woefully under served. That's why, as of Sept. 3, the two have become Kingman's newest fixture, opening D&C Comics at 432 E. Beale St., in the heart of historic downtown Kingman.
"When we knew we were opening a store, we went absolutely crazy and bought everything we could," David said. "We're 200,000 comics strong and counting, and we have some absolutely unique items."
Those items range from limited edition replicas of Batman's batarang and Nick Fury's gun and badge to unopened vintage Spawn action figures autographed by creator Todd MacFarlane. Then, of course, there are the comics themselves, of which the Nolins' stock ranges from the newest monthly releases to plastic-sealed editions from the 1940s and '50s.
"I've got Golden Age through Modern Age," David said. "We have dollar comics and $2 figurines, right up to a $1,200 limited edition prop replica of Superman's cape."
While their store has only been open less than two weeks, David said he and Cora are already responding to their local customer base by ordering 3,000 Japanese manga books, as well as cards for various collectible card games such as Magic: The Gathering and Yu-Gi-Oh. The store will also soon stock a selection of graphic novels, and is collaborating with several local artists to sell some of their own works, as well as a line of custom-made, comic-themed clothing dubbed "Shadewear."
David said he wants the comic shop to be a sanctuary, not only for serious collectors, but also for Kingman's youth. He has already worked with several locals to establish off-hours board games and card tournaments, as well as weekly role-playing game sessions.
"I'm into my community," he said. "This isn't a store where we say 'Hey, get outta here.' I'll host anything, Dungeons and Dragons, card games, tournaments - this is where geeks are allowed. You can be as geeky as you want in here."
To hit that message home, the Nolins have set up tables and chairs throughout the store, with a soda cooler in one corner and flat-screen televisions on the walls showing various superhero movies throughout the day. "Every single day, there's something new in the store," Cora said. "We wanted to bring something new and different to Kingman, something for the children."
But the Nolins also anticipate a respectable trade from adult collectors as well, and are willing to buy, sell and exchange, with access to a regularly-updated online pricing guide that covers more than 650,000 individual comics and collectibles. They also price their wares for the local market, meaning you might find something at D&C Comics for $30 that you might not be able to find anywhere for under $100 in a larger market such as Las Vegas.
"What I tell customers all the time is, before you come to me, call Vegas," David said. "I beat Vegas all the way around, and I put my prices where they're at because of where I live."
D&C Comics also maintains an e-mail directory for customer "wish lists," in the event a customer is trying to find some rare volume the store doesn't already have in stock. "We have tons of suppliers ourselves who are also personal collectors," David said. "We know one collector with over five million comics, and I buy direct from him."
D&C Comics is open from 10 a.m. to 6 p.m. Monday through Saturday. For more information, call (928) 263-6135, or send an e-mail to dandccomics@yahoo.com