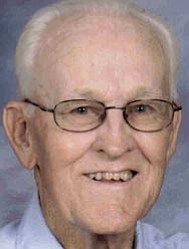 Originally Published: September 16, 2010 6 a.m.
Harold Wayne Hendricks left us to be with Jesus Thursday, Sept. 9, 2010. He lost his battle with cancer, but it was a quiet, peaceful moment with Joyce, his beautiful wife of 60 years.
He is survived by his wife, Joyce, and daughter, Brenda of Golden Valley; son, Bryan and his wife Terri Hendricks of Lebanon, Ore.; and eight grandkids, Joshua, Deanna and her husband Jon (felt blessed that God chose her birthday for this blessed event), Cindee and her husband Jason, Kimee and husband Kyle, Aaron, Sean, Ashley, and Cody; and seven great-grandkids, Isaak, Cyrrus, Joseph, Leah, Noelle, Kiera, Bailey; his nephew, Larry; brother-in-law, Bill Handley; his sister, Betty; and two brothers, Lester and Jim of Indiana, who even though they were so far away, he had many fun and loving memories that he often shared with his family.
Wayne was born to Archie and May Hendricks in Spencer, Ind., on Jan. 18, 1929. He was one of eight kids, seven boys, one girl.
Being raised during the Depression, he experienced things as a child that many of us would be heartbroken to hear, but he did not let that be an excuse, and he persevered in life. Laughter, teasing and joking were all part of his character. He made friends everywhere he went and never met a stranger, not even the furry or four-legged kind.
Anyone who knew Wayne knows how he was a survivor, a man of integrity with fortitude, and a strong faith.
Wayne and Joyce met in El Cajon, Calif., in 1949 while he was in the Navy, and were married a year later. After he left the Navy, he spent most of his working years driving a big rig for Ameron from which he retired.
Finding themselves ready for a change, they decided to move to Colorado. While living there, they were blessed to meet Jim and Dalene Eastham, who became like family. So, when it came to them moving to Arizona, in 1987, Jim and Dalene were not far behind, and they ended up living two houses down from them.
Once they were here, Wayne and Joyce joined Golden Valley Baptist Church which has continued to be a vital part of their spiritual growth. In the church, he was very active as a deacon, worked the sound booth on Sunday mornings and also taught Sunday school until sadly he was too ill to continue.
Wayne was quite talented, he sang, played guitar and mandolin, oil painted, built anything he put his mind to; he enjoyed photography and went to Africa in the '70s on safari.
As a boy, he whittled wood into tools, later he was building homes and became the handyman of Golden Valley. He could fix anything, but just don't ask him to program a remote or a VCR!
His passion and interest in trains was evident to anyone who knew him. He designed and built a model train room which showed another amazing talent.
So many people loved him and we appreciate the outpouring of love and friendship. He was able to recognize how many caring and supportive friends he truly had. It is a rare and fortunate experience that we will be forever grateful to have been a part of.
Services will be held at 3 p.m. on Friday, Sept. 17, at Golden Baptist Church, 100 S. Higley Road.
Dad, we weren't ready to lose you.