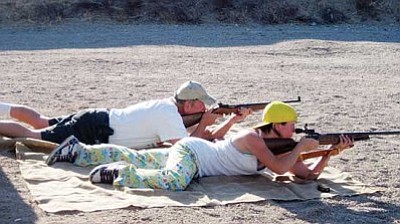 Originally Published: September 17, 2010 6:01 a.m.
GOLDEN VALLEY - Due to numerous requests, the Mohave Sportsman Club will sponsor another Constitutional/Concealed Carry Law seminar to explain and discuss Arizona's new law that permits carrying a concealed weapon without a permit.
A number of people said they were unable to attend previous seminars because most of them were standing room only, so the club's board of directors decided it is in the public's best interest to offer the program for a fifth time. The seminar will be at 2 p.m. Saturday at the Seven Mile Range Clubhouse. It will coincide with the club's "Take a Grownup Shooting Day."
The free seminar is open to the public and available to anyone who wants to know more about how the law affects them. It will also explain how it affects people who have or want to obtain an Arizona concealed weapons permit.
It will be conducted by NRA- and state-certified handgun and personal protection instructor Ric Swats of Mother Road Firearms.
On the third Saturday of each month, the Mohave Sportsman Club offers area families a chance to visit Seven Mile Hill Range at no charge on "Take a Grownup Shooting Day" and learn about the many opportunities to participate in the shooting sports that are available at the facility. Adults accompanied by a child may shoot at the range for free all day, visit with representatives of the various shooting disciplines and watch a variety of matches held throughout the day.
Through the Mohave Sportsman Club, which manages Seven Mile Hill Range on behalf of the state Game and Fish Department, the facility offers a host of educational programs as well as recreational and competitive shooting sports.
In shooting sports, the club sponsors numerous handgun, rifle and shotgun matches and recreational groups. But it also has an extensive archery facility, a muzzleloader area and law enforcement training facilities. There are also youth programs in rifle, shotgun, pistol and archery as well as educational and training programs for youngsters.
There are offerings for adults in every discipline and a women's group that organizes its own "women only" recreational shooting and education events. On Saturday, there will be youth rifle, trap shooting, women's pistol and defensive pistol events.
Visitors who attend with a minor child will receive a complimentary one-day membership that will allow them use of the public range facilities at no charge from 8 a.m. to 7 p.m.
For more information about "Take a Grownup Shooting Day," call the range office at (928) 753-8038 or visit http://www.mohavesportsmanclub.com/
For more information about the seminar, call Ric Swats at (928) 377-5742 or by email at ric@motherroadfirearms.com.