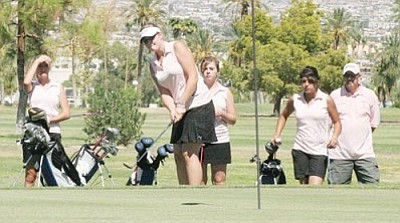 Originally Published: September 19, 2010 6 a.m.
KINGMAN - Haley Moon earned her third and fourth of five qualifying state tournament scores, and Brianna Peterson shot her second, as the Kingman High girls golf team posted a 1-2 record last week.
Moon shot a 46 in Wednesday's 212-254 win over Valley Vista in Surprise. She was also medalist on the day, and Taylor Stephens shot 52, Peterson 57 and Visha McCoy 57 to round out KHS' scoring.
Jamie Robertson (61) and Claire Weisberg (65) also played, but their scores were not part of the total.
"The key is consistency and teamwork," KHS coach Ken Stalsberg said. "We've been very competitive so far this year."
KHS (9-8, 1-1 NW) finished third in the three-team Lake Havasu Invitational that ended Friday. Peterson qualified with a 39, and Moon added her fourth with a 40. When Peterson is on, she has shown she can compete with the upper-tier players.
"Brianna has that competitive fire that you need," Stalsberg said. "She can stay focused for nine holes. She's patient, and that's the key."
Following Peterson and Moon for the Bulldogs was Stephens with a 46, McCoy with 48, and Robertson had 55.
"The girls are working hard on their short game," the coach said. "We're getting double bogeys after we get on the green in two or three. If you can play bogey golf, you'll qualify every time."
KHS hosts Glendale Deer Valley at 3 p.m. Wednesday at Cerbat Cliffs Golf Course. In the meantime, Stalsberg said he would be working on getting some of his players to calm down.
"Some of the girls get tense on the first tee to start matches," he said. "I'll be trying some relaxation skills with them."