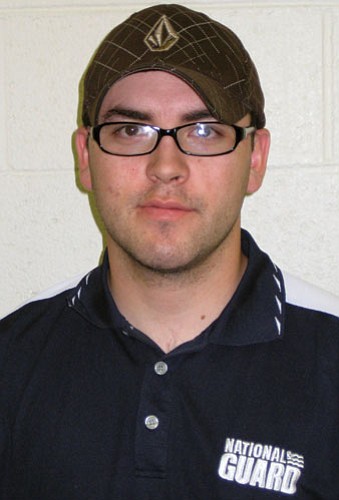 Originally Published: September 22, 2010 6 a.m.
KINGMAN - One of Kingman's hometown heroes is on course to return home this weekend after recovering from injuries he suffered in Afghanistan.
Army Specialist Alexandro Velez, 23, has been recuperating at Ft. Hood in Texas for the last several months following a severe injury to his right leg he sustained on a foot patrol some time in 2009. A combat medic operating in the Laghman province of northeast Afghanistan, Velez said he was not authorized to describe the exact circumstances that led to his injuries, suffice to say that they only grew worse over time.
"Stuff happened. The next thing I knew, I was on a stretcher in a plane. I sustained a large injury to my lower leg and lost a lot of function in my right leg," he said over the phone from Ft. Hood. "After my leg injury, I was really trying to suck it up and keep going, but in doing so, I damaged my leg more, then I sustained another set of injuries later down the road and that's when my command said 'You need to be evac'd.'"
According to Velez's father, Fernando, Velez will receive a medical discharge with a 100-percent disability rating, which will help him to continue working through the physical therapy and other programs he will need to help him regain his body's functionality.
"Upon my return home, I'm still going to need to go through a few surgeries for my leg and physical therapy," Velez said "Even though I'm being discharged from the Army for medical conditions, it's still going to be a long battle till I'm fully recovered. But the Army has done a lot for me."
Velez's father said he and his family have nothing but admiration for Velez for serving his country and helping the people of Afghanistan as both a medic and as part of the Army's efforts at humanitarian outreach.
"He used to go on a lot of 'hearts and minds' missions," Fernando said. "Little things we take for granted that we go to the doctor or pharmacy for, he had a little medical clinic there, where people would come in for injuries they received from the Russians (during the 1980s invasion)."
"I pretty much had to go out there, treat little kids all the time," Velez said. "I was treating the sick, the dying, the wounded. We were showing them that we weren't just there to fight terrorists but to help them in their journey to become an independent and free country."
He added that, despite their fundamental religious differences, he didn't find rural day-to-day Afghani life all that different than life in the more bucolic parts of rural Mexico.
"It's really like poor parts of Mexico, if you've ever been down to Mexico and seen the huts and the houses the locals make there," Velez said. "The culture is like the Mexican culture. Myself, I'm Hispanic, and a lot of the food they eat there, a lot of the common courtesies and mannerisms, to me, were almost like being back in Mexico."
In addition to performing military and humanitarian missions, Velez spent his downtime as what is perhaps Mohave Community College's most well-known distance education student, with his photo right on the MCC distance education website.
"When I originally left home, I was hoping to become a nurse," he said. "Since then I've decided, I'm still working on my Associate of Arts in Social Behavior Sciences while also working on an AA in Fire Science. It was difficult at times, but I'm still doing distance education while I'm recovering from my injuries, and the school has been phenomenal about making exceptions for me."
Returning home will also give Velez the chance to see his wife, Stephanie, and his two sons, Skyler and Calvin. While he had been able to attend both boys' births, one before his initial deployment and one while he was on leave, Velez's return this month will mark the first time in more than two years he will be able to actually stay with his sons without worrying about having to go back to the war.
"As far as coming home, I'm looking very forward to it," he said. "I've been away for so long from family and friends even while recovering, so it'll be nice to finally come home and be with loved ones."
Fernando said he and Velez's mother will be flying to Ft. Hood on Thursday and will spend the next two days driving Velez back to Kingman, finally returning on Saturday night. He added that he is currently attempting to work with the local Patriot Guard Riders to arrange some kind of homecoming ceremony for Velez, though details are still sketchy.
"We're hoping to be back Saturday and have the Patriot Guard Riders do something for him on Sunday," Fernando said.