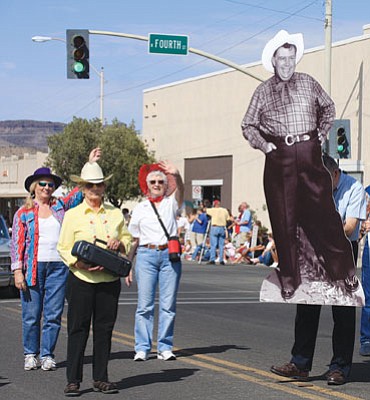 Originally Published: September 23, 2010 6:01 a.m.
KINGMAN - More than 100 entries have signed up for this year's 40th Annual Andy Devine Days Parade this Saturday.
The parade begins at 10 a.m. at First and Beale Streets. The parade route then heads east on Beale to Sixth Street, and then north on Sixth to Spring Street, where it ends at Spring and First streets.
The parade will feature floats, antique and restored vehicles, equestrian riders and two marching bands from Kingman and Fort Mohave high schools. Local leaders attending include Mayor John Salem, members of the Kingman City Council, County Supervisor Gary Watson, the Bullhead City and Lake Havasu City mayors and state representatives Doris Goodale and Nancy McLain.
Keith Adams, former recreation superintendent and past parade chair, will serve as Grand Marshall.
The review stand will be situated at the corner of 4th and Beale streets. KGMN newscaster Dave Hawkins will announce the entries as they pass from that location.
The parade serves as the official kickoff for Andy Devine Days, which includes a rodeo at the Fairgrounds Saturday and Sunday, followed by a softball tournament at Centennial Park the first weekend of October.
Parade Chair Yvonne Cossio said that in the event's 40-year history, the parade has only been rained out once.
"What better way to start off the weekend than with some family fun?" she said.
Downtown businesses are inviting residents to stay after the parade and enjoy the area, including Bliss Day Spa, which will be open from noon to 3 p.m. for residents to tour their new location at the 100-year-old J. Duff Brown House at 541 Oak Street. Prizes and refreshments will be available.
"We are happy to show off one of Kingman's rare historical pieces," said Bliss owner Tabitha Miller. "Since most of this home's commercial life has been under lock and key, it is now open to the public so they can admire and appreciate history up close."
More like this story