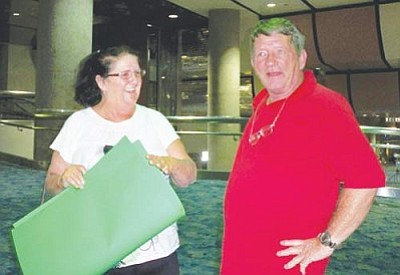 Originally Published: September 27, 2010 5:59 a.m.
KINGMAN - For more than 50 years, 66-year-old Rose Matthews and 68-year-old Kendall Nelson Egan searched for each other. The brother and sister knew of each other's existence, but that was all they knew.
They were raised apart - Matthews by her mother and Egan by his father - and reunited only once as teenagers after both parents had died. They didn't even know each other's actual names.
"For 50 years we looked for each other but we were looking in the wrong places," Egan said.
It was finally Matthews' adult daughter, Valicia Rhoads, who would track Egan down through genealogy records after finding a picture of him posing with the swim team in the East Bakersfield, Calif., High School yearbook. Egan got the call last month at his Alabama home while on the other line with the Dell Computer customer support department.
"I don't normally click over, but this time I did," he said.
Egan had been disappointed by false leads in the past and asked the family to e-mail him a picture of Matthews as a child.
"It looked exactly like the one I had," Egan said, his eyes welling with tears.
Matthews and her daughter drove from their home in Kingman to meet Egan at the Las Vegas airport Sept. 17. He will be staying with them for the next month, getting to know the rest of the family he never knew he had.
"I came to them as one (person), but I got 50 of them," Egan said.
"I've never had family like this."
"You had us," Matthews chimed in. "You just didn't know it."
The story of the pair's childhood is complicated by lack of records and communication on their parents' part. Their parents split when they were still toddlers, and they aren't even sure if they were even married.
Egan was raised by his father in California and adopted by family friends after his dad died when he was 12.
Matthews was raised by her mom in Iowa and adopted by her stepfather after her mom died when she was 10.
The brother and sister were reunited just once when they were in high school.
"We weren't smart enough then to ask enough questions," Matthews said.
They've heard that they are both three-fourths Native American but they've been unable to find definitive proof. The lack of any historical records on his father makes Egan wonder if he wasn't in some sort of witness protection program, since he came from a time and area where gangsters were prevalent.
"I just keep hitting dead ends that there was never such person," he said.
Matthews had searched for her brother throughout the years, but under the name Kenneth, not Kendall.
"I don't know how many Ken Egans I've called," she said.
It was the swim team photo that finally let Matthews know she had been searching under the wrong name. With the help of a genealogist in California, her daughter was able to put the rest of the pieces together.
Finding his sister and connecting with her family has made Egan complete, he said. They are now working together to find the more than half-dozen half-siblings they've been told they have.
"I was so afraid to die without a family," Egan said. "Now I am complete."