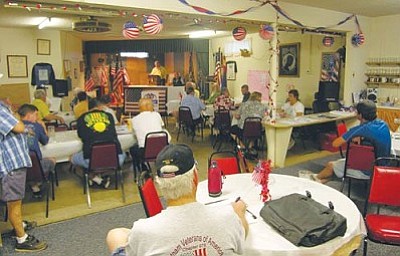 Originally Published: September 30, 2010 6 a.m.
KINGMAN - If you're not a veteran or closely related to one, you may not be aware of just how many different veterans organizations there are out there, each representing a different subset of America's more than 24 million veterans, some by service, others by conflict, and still others by purpose.
In Mohave County alone, the number of individual veterans groups and chapters totals well over a dozen and includes the Veterans of Foreign Wars, the Vietnam Veterans of America, the Marine Corps League, the American Legion, the Korean War Veterans Association, AMVETS, and many more.
For more than 16 years, Jerry Ambrose, himself a member of the Arizona Veterans Hall of Fame, has been trying to get these disparate groups together behind a united front - a county-wide Veterans Council capable of pooling each organization's local resources to maximize their overall effectiveness in aiding local vets and their families. And for 16 years, Ambrose met with little success, mainly due to clashing interests and occasional animosities between the various groups.
But this year, something finally gave, and the Mohave County Veterans Council is now in its third month of existence under the chairmanship of local VVA chapter president Gene Crego. According to Crego, the catalyst for the group's formation happened during the spring, when word had gotten around about a local veteran who had to have his septic tank pumped and leach field redone but couldn't afford the cost.
"He got a hold of us along with Mohave Engineering and, it's normally $3,500 to do that, but thanks to the folks at Mohave Engineering, they got it down to $2,000," Crego said. "I'm part of the Vietnam Veterans of Arizona Foundation, and I called them in Phoenix to see if we could help him out. They sent half the money up, and the local veterans organizations came up with the other half."
Seeing the various groups set aside their differences to work for a common cause convinced Crego to approach Ambrose about attempting to establish the Veterans Council once again. The two men set a date to meet at VFW Post 10386, then spread the word around to every group they could contact. And sure enough, they showed up.
"This is a milestone since it's never been tried before, and what it does is help our veterans and their families because, with the way the economy is today, a number of posts are just barely able to keep out of the red, and it's harder for them to help vets," Crego said. "Right now, we have donations from different organizations and individuals. What we hope is that, if we become a 501(c)3 non-profit, that opens the organization for grants, and by submitting for grants, we might get more funding to help veterans and their families."
Crego said the council's main functions will be to provide a united voice for veterans in the county, as well as to plan, coordinate and implement programs to help further the cause of veterans and their families, and to work with existing local, state and national social services and welfare agencies that do the same. The council has already reached out to some external veterans aid organizations such as the Lake Havasu City Vet Center and the Department of Veterans Affairs rural outreach program to begin pursuing projects to help aid homeless veterans and those who need readjustment counseling or other benefit services. Crego said that, as its own organization, the Veterans Council is able to assist the VA's operations by paying for things they otherwise couldn't authorize on their own, such as bus tickets or clothing.
"They've got some programs in place, and the niche we can fill right now is just being a petty cash drawer," said Rick Shelby, the council's treasurer and a Marine Corps League commandant. "Food, car repairs, gasoline, bus tickets - these are things the VA can't do. They've got all these things they can help the veterans with, but they can't get them from point A to point B. That's what we're here for. Nothing we do, nothing from this fund, no monies will be spent without a request from the VA, and hopefully that's going to end the panhandling from club to club."
Crego noted that the Veterans Council is not limited to veterans groups alone. It also includes those clubs and other non-profits that make veteran assistance a large part of their operations, such as the Elks Lodge and the Patriot Guard Riders. As the council begins to work out its bylaws in the next several weeks, Crego said he's hopeful that more such groups will take an interest in joining, and the Council plans to continue making overtures to its neighboring veterans groups in Bullhead City, Lake Havasu City, Ft. Mohave, Mohave Valley and outlying areas such as Yucca.
"Many reports that I've seen say there are roughly 40,000 veterans in the tri-city area, and our objective is to try and help them out," he said. "Any type of help they need, we're going to be there to help them."
The Mohave County Veterans Council's next meeting is scheduled for 6 p.m. Oct. 26 at VFW Post 10386, located at 3036 John L Ave.
For more information or to make a donation, call Crego at (928) 692-1802.