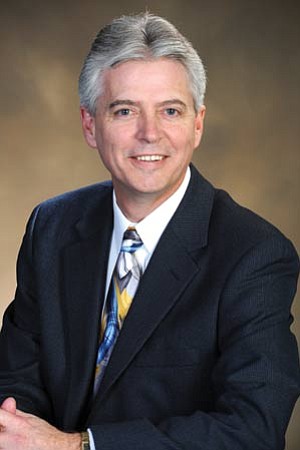 Originally Published: April 3, 2011 6 a.m.
KINGMAN - Kingman Regional Medical Center has hired Tim Blanchard as its new chief financial officer. He is assuming his duties from long-time KRMC CFO, Larry Lewis.
Lewis will continue to serve in his capacity as the hospital's chief administrative officer and will oversee the hospital's physician practices, health information and technology, as well as general oversight of the financial division of the hospital.
Prior to joining KRMC last month, Blanchard served for 11 years as CFO at Willamette Falls Medical Center in Oregon City, Ore. Blanchard's career encompasses a combined 22 years of healthcare finance experience in both acute care and physician settings.
"Tim will be a great asset toward the continued improvement of Kingman Regional Medical Center," said Brian Turney, KRMC chief executive officer. "As we continue to grow, his experience will be a critical part of our success."
Blanchard holds a bachelor of science in accounting from the University of Oregon. He is also a certified public accountant and a member of the Healthcare Financial Management Association.
He and his wife, Shelly, will reside in Kingman. They are parents of two grown daughters, who also plan to relocate here. The family enjoys the outdoors and looks forward to experiencing the abundant sunshine and recreational opportunities in the area.