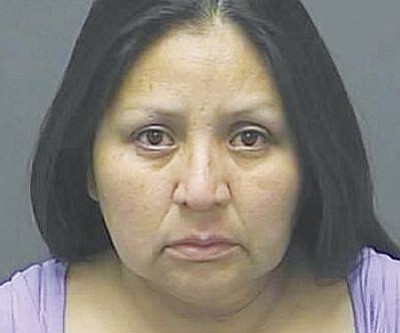 Originally Published: April 5, 2011 6:01 a.m.
KINGAN - A citizen's tip led to the arrest of a 39-year-old Peach Springs woman on suspicion of drunken driving with two young children in the car, even though she was under the legal limit.
Pamela Jane Powskey was arrested after she was stopped by a Mohave County Sheriff's deputy on Bank Street around 2 p.m. Friday. An "attempt to locate" bulletin was posted by law enforcement on Powskey's gold Chevy Blazer after a resident called 911 saying they had seen two women at Walleck Ranch Park who were drinking at the park and then left in the car, with one of the women behind the wheel.
Trish Carter, spokeswoman for the Sheriff's Office, said deputies observed a can of beer in the center consol near the passenger as they spoke with Powskey. Deputies said the beer was slightly cold and about a quarter full.
Also in the car were Powskey's two children, ages 5 and 7, Carter said.
When Powskey was asked if she had been drinking, she reportedly said she had a drink earlier that day, but denied drinking at the park.
She was arrested following field sobriety tests and taken to the Sheriff's Office, where an analysis found her blood alcohol level to be .071 percent, just under the legal limit of .08.
Carter said that the way the statute is written, drivers can be arrested for drunken driving even under the .08 threshold for being intoxicated to the slightest degree. Law enforcement has some discretion in those arrests based on how the driver performs on field sobriety tests and what the driver tests on a Breathalyzer at the scene.
The aggravated DUI charge in Powskey's case is the result of having two minors under the age of 15 in the car.
The 49-year-old passenger was cited for having an open container, a misdemeanor.
Powskey's children were released to the custody of a family friend.