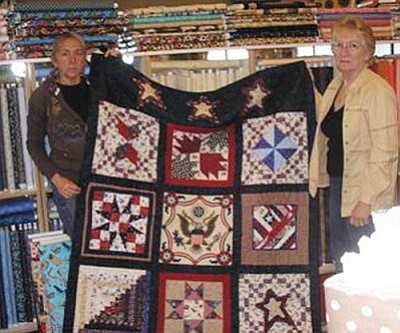 Originally Published: April 6, 2011 5:59 a.m.
KINGMAN - Jordan Maynard is back on American soil but not out of the woods yet.
Marine Cpl. Maynard lost both of his legs in Afghanistan March 22, when an improvised explosive device detonated near him. After almost dying at the site of the explosion, his condition was stabilized and he was transferred to Germany to receive more treatment. He is now being cared for in Maryland. He arrived there Friday, and his mother, Angela Patterson, is there with him, said Maynard's sister Chelsea Curry.
In Maryland, Maynard had emergency surgery to repair a damaged blood vessel in his leg early Sunday morning, said Curry. He received a blood transfusion to keep up with the amount of blood he was losing due to the damaged blood vessel.
Curry said Maynard had a normally scheduled surgery Monday, and his doctors said his tissue looks good and he's healing well.
Once Maynard heals enough, the next step will be rehabilitation. He will do that either in Texas or San Diego, said Curry.
Maynard's family will hold off on home renovations - to prepare for his return - until they know if he's going to be discharged or remain on active duty. If he's discharged, the Department of Veterans Affairs can possibly donate a larger home to help accommodate for his disability, said Curry.
"It's all too early to tell," she said. "It's something new every day with Jordan. We're still really worried."
After Maynard returned unscathed from his first tour of duty in Afghanistan in 2009, all was well, said Curry, even though his family knew there was a good chance he would have to go back.
But the day Curry found out he was headed back, something was different.
Neither Patterson, Curry or Maynard's wife Jennifer felt good about this second tour, explained Curry.
"I had a bad feeling in the pit of my stomach," Curry said. "I had a lot more confidence he would come back unharmed the first time he went out."
Anyone interested in sending Maynard a card or some other type of get well greeting is encouraged to do so.
Address envelopes and packages to Jordan E. Maynard c/o Intensive Care Unit, 8901 Wisconsin Ave., Bethesda, MD.