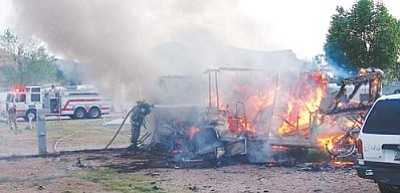 Originally Published: April 7, 2011 6 a.m.
KINGMAN - Firefighters responded Tuesday to the scene of a burning RV allegedly set on fire intentionally by its owner.
Golden Valley Fire Chief Tom O'Donohue said his department responded to the out-of-district call at Coyote Canyon RV Park on Route 66 around 6:30 p.m. Tuesday.
O'Donohue said other residents of the park told firefighters that the woman, whose name was unavailable, set the RV on fire herself. They also said the woman sat next to the burning vehicle until she was pulled away by neighbors.
It's not clear how the woman started the fire or why.
The Mohave County Sheriff's Office would only say that the incident is under investigation.
O'Donohue said his department responded to the fire even though it was out of their district as a matter of public safety.
He said he intends to bill the woman the cost of the response - estimated at a couple thousand dollars - because of the district issue, although he added her actions were a misuse of emergency services.
No other structures or vehicles were affected by the fire.
More like this story