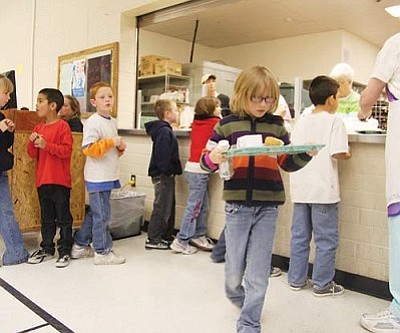 Originally Published: April 10, 2011 6 a.m.
KINGMAN - Throughout America, the price of food is going up. Kingman is no exception.
Food price inflation affects the community in ways many don't realize. The price of vegetables force public schools to serve fewer fresh salads while the price of all food has restaurant owners taking financial hits in order to stay open.
Kingman Unified School District's Food Services Director Paula Loomis uses federal commodity dollars to purchase as much produce as she can for Kingman area public schools. Once that money runs out, Loomis must dip into KUSD's budget to pay for produce for the remainder of the year. This year, Loomis received $16,000 in commodity dollars; next year she plans to get $20,000.
As of March 21, this school year's commodity dollars ran out. That means Loomis must pay for the remainder of the year's produce with budget money. There are also several other governmental programs that help Loomis pay for other types of food, including poultry, meat and eggs. These programs are a tremendous help and do not negatively affect KUSD's budget whatsoever, said Loomis.
"I try to serve fresh fruit or salad at least once a week," Loomis said.
But large price fluctuations of grapes and tomatoes threaten to force Loomis to serve less fresh fruit and vegetables. Since last month, grapes have gone from about $25 to $50 a case, said Loomis, and cherry tomatoes that cost $20 for 10 pounds on March 21 jumped up to $30 the week of March 28.
Loomis uses cherry tomatoes for her salads because they look good and they're easy to add to the mix. Normal tomatoes need to be chopped up, she said, which takes time, often makes a mess and doesn't look as good. Presentation means a lot when it comes to feeding students, she said.
Loomis receives weekly reports from Shamrock and other food distributors. She studies those reports and then makes her weekly food order based on which company offers the best prices. Just like grocery store customers, Loomis said she must look for the best deals in order to stay within budget.
As Lynn Downds finishes her grocery shopping at Smith's and heads for her car, she chuckles, shakes her head and says: "Prices are awful."
In order to deal with skyrocketing food prices, Downds said she removed non-essentials from her grocery lists. Bye bye, savory shrimp. So long, delicious deserts. By only buying the basics and always watching for sales, Downds said she saves about $30 a month, which is still not enough to offset the price hikes.
Downds believes sharply higher gas prices are to blame for current food prices, but like everyone else, she has to make room in her own budget for the increasing cost of gas as well. So - in a way - Downds and anyone else who dares to eat as well as drive is hit doubly hard. Not only must people pay for their own gas, they must pay for the gas of food distributors as well when they go through the checkout line.
Lee McPheters, re-search professor of economics at the W.P. Carey School of Business at Arizona State University, explained that gas prices effect food prices, but not in the way many people think. It's not instantaneous, he said. It actually takes time for gas prices to make their way through food prices.
"Most people who don't plan ways to deal with these food prices are going to struggle," Downds said. "People must plan ahead or it's going to be very hard for them."
One person who's having a hard time dealing with food prices is Neita Pound, a 75-year-old widow who takes care of her mentally disabled daughter. Social Security and food stamp payments aren't going up, but the price of food is, said Pound.
There are the 99-cent bell peppers, the tomatoes that cost $1.50 a pound and the packages of hamburger - that used to be $9 - selling for $12, said Pound. She estimates that she is spending $100 more a month on groceries.
"I might as well take myself out to eat," Pound said. "Why should I buy an uncooked roast, when I can get a cooked one for nearly the same price?"
Restaurants also paying more
Going out to eat is indeed a way to avoid grocery store price fluctuations, but just because that well-cooked steak dinner totes the same price as it did last year doesn't mean restaurant owners avoided food price inflation. It means they didn't pass it down to their customers.
Sam Shalaby, the manager of the Dambar and Steakhouse, saw prices skyrocket in January. The prices of tomatoes and bell peppers doubled, he said, but have since come back down a bit. Nevertheless, they're 70 percent higher now than they were at the end of 2010, said Shalaby.
Shamrock, the steak house's distributor, told Shalaby an East Coast freeze was to blame for the price inflation.
Weather plays a huge role in food pricing, said McPheters. But the expectation of weather plays an even bigger one. For instance, expectations of floods in farming regions in North, Central and South America later this year are applying upward pressure to food prices, said McPheters.
"Planting is always out of whack with prices," McPheters said. "But that's changeable because there may not actually be a shortage. Within the world of agriculture, expectations drive world demand."
If Shalaby were to raise his prices to mitigate his costs, he would lose customers. Unlike groceries, people can strike going out to eat from their budgets.
"I have to take the hit," Shalaby said. "But I'm confident prices will come back down."
Food prices are subject to wild fluctuations. In the long run, prices will come back down, but that doesn't mean they won't be higher than they were originally, explained McPheters.
Rhonda Chapman owns Calico's Restaurant and Lounge and is not handling the price increases very well.
Prices across the board are up at least 20 percent, said Chapman, and it's not just produce. The prices of chicken, pork and all other meats increased steadily over the last couple of years as well, she said. Her distributors blame freezes in Mexico and Florida.
She's right. McPheters said the Consumer Price Index for meat, poultry and eggs is up 6.8 percent from last year while fruits and vegetables are up 4.3 percent.
"I'm stuck," said Chapman, who - like Shalaby - must absorb the inflation in order to retain her customers.
Chapman owns the building Calico's is housed in, so she will stay open regardless of price inflation. Her sister restaurant, the Hoagie Hut, cannot stay open under these conditions, though. If prices stay where they are or continue to rise, the Hoagie Hut has six months before it's forced to close, said Chapman.
Buying programs give chain restaurants and grocery stores advantages over independently run food businesses, said Chapman. A buying program offers a discounted price based on how much food is purchased and is similar to a contract.
Buying programs protect chain grocery stores and restaurants from the fluctuations in food pricing, said McPheters. They give large companies clear advantages over independently owned businesses. Small restaurants are under extreme amounts of economic pressure because they have to operate on the whim of wild food price fluctuations, he said.
"I would love to see what Safeway pays for a case of tomatoes, because I'm paying $50," Chapman said.
Safeway and Smith's corporate offices could not be reached for comment, and Shamrock declined requests to participate in this story.
While food and gas prices continue to climb, McPheters said other commodities fall. Housing and clothing prices are down, but people buy food and gas much more often than they purchase clothes or a new home, he said.
"The fact of the matter is that price swings wash out," McPheters said. "But while certain prices are up, it is not comfortable for consumers."