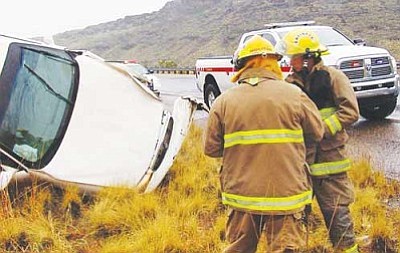 Originally Published: April 12, 2011 6:01 a.m.
Engineers with the Golden Valley Fire Department check a vehicle's stability after this Buick Regal rolled while traveling northbound on Highway 93 just south of Highway 68 just before noon Friday.
The driver fled the scene, running into the hills after the crash, leaving a female passenger inside. Bystanders helped her out after the car began smoking.
No further information was available from law enforcement. The accident occurred while rain and snow fell on the area.