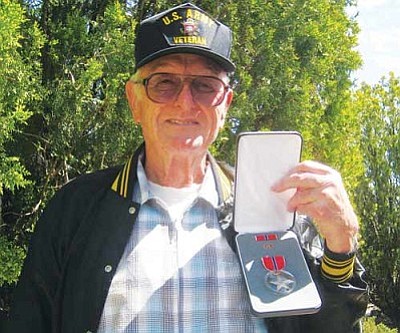 Originally Published: April 13, 2011 5:59 a.m.
KINGMAN - When Kenneth Kelley was honorably discharged from the Army 66 years ago, he was happy to simply escape with his life.
Kelly enlisted when he was 20 after he tagged along with a group of older boys being drafted. Back then, he said, the draft targeted men 21 and older. Anyone younger than that had to have their parents permission.
Kelly was the only one of the group to pass his physical.
"I passed and they all went home," he said.
While he was in the Army - the 505th Parachute Infantry 82nd Airborne, to be exact - Kelly was among paratroopers who stormed the beach at Normandy, France on June 6, 1944, and jumped from a plane during the Battle of the Bulge several months later.
"Those jumps in enemy territory will certainly get your attention," he says now from beneath the brim of an Army vet ball cap.
Kelley was in the Army for a total of 43 months, 28 of which he spent overseas.
Earlier this week, he opened his mailbox and found a token of appreciation from the government for his service more than six decades ago: A Bronze Star.
There was no letter or explanation accompanying the medal. Just a box with Kelly's name on it. The Bronze Star is awarded to members of the U.S. Armed Forces for heroic or meritorious achievement or service.
"I couldn't believe it, that (it arrived) after all these years," he said.
Kelley says the best part of his service was meeting his wife, Kathleen, in England. They moved to Kingman with their four children 42 years ago, and Kelley took a job managing what was then the Duval Mine.
They say that those who serve never really leave the experience behind, and that is true for Kelley. When the U.S. first invaded Iraq, Kelley began cutting out news clippings about troops from his company who had been killed.
"It got to be so many that I couldn't continue," he said solemnly.
Kelley said that when he was discharged, he wasn't concerned with any awards or accolades.
"At the end, I was so glad to get out of there with my life that I wasn't interested in any medals or anything," he said.
He adds, however, that the acknowledgement for his service was a welcome gesture.
"Good things happen to those who wait," he said.