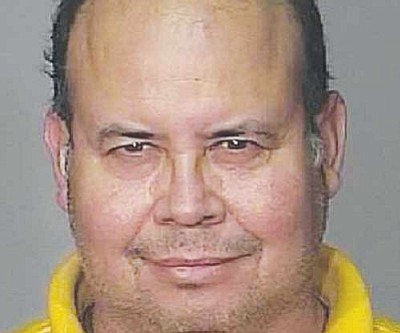 Originally Published: April 14, 2011 5:59 a.m.
KINGMAN - An assistant to a Las Vegas-based doctor who pleaded guilty to illegally distributing pain medication out of his Golden Valley office was sentenced to two years probation Tuesday.
Mohave Superior Court Judge Rick Williams followed the suggestion of Arizona Assistant Attorney General Doug Lau, who asked for no further jail time for Bryan Espinosa, of Las Vegas. Espinosa served 21 days in a Mohave County Jail after Dr. Albert Szu Sun Yeh's clinic was raided by the Drug Enforcement Agency in February 2009.
The Attorney General's Office said Yeh's operation amounted to drug dealing because he dispensed medications without following proper protocol.
Yeh was sentenced last month to 2-½ years in prison after pleading guilty in a Phoenix court to fraudulent schemes, illegal control of an enterprise and money laundering.
Espinosa pleaded guilty in November 2009 to one count of assisting a criminal syndicate. His plea agreement stipulated that he be sentenced after Yeh.
At Tuesday's hearing, Espinosa said he took full responsibility for his actions, which he said ran contrary to his desire to help people and do no harm.
He said he would likely retire from the medical field, which he has worked in for some 28 years.
Williams also ordered Espinosa to complete 250 hours of community service.
Espinosa was an assistant to Yeh, who was a pain management doctor with a main clinic in Las Vegas. He rented office space at the Golden Valley clinic from Kingman Regional Medical Center but was not affiliated with the hospital. He saw patients in Golden Valley one day a week.
The investigation into the doctor's practices began when the Kingman Police Department was contacted by a local pharmacy in June 2007 about a person picking up a prescription that was suspected to be fraudulent. Police contacted the DEA after dozens of other prescriptions were discovered to be fraudulent.
Yeh was under investigation by the DEA for about two years. Investigators said he routinely wrote more than 100 prescriptions a day for strong painkillers like OxyContin, Percocet and Vicodin to patients at the Pain Wellness Center without a physical workup.
One undercover agent was prescribed a controlled substance after meeting with the doctor for 58 seconds. Another undercover agent received two prescriptions, or 240 pills, of Percocet two weeks apart.