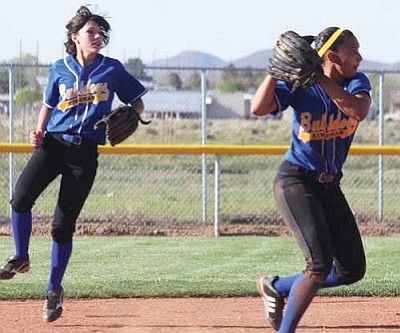 Originally Published: April 14, 2011 6:01 a.m.
KINGMAN - It was the fifth inning and Kingman High's Bianca Sapien hit routine fly-ball to Surprise Valley Vista's third baseman Karlie McCullough.
McCullough camped under it and was doing everything right fundamentally to catch the ball. Instead, the ball hit her glove and bounced to ground.
Bad break for the Monsoon (3-10 5A-II, 2-8 Northwest), lucky break for the Lady Bulldogs who extended their winning streak to seven with a 12-0 win.
"That's kind of what happens when you're playing the game right and having fun," said KHS's Stephanie Weyermiller who was 3-for-3 with three runs scored. "If we're having fun but not playing the game right, then stuff like that happens."
McCullough's error would have been the third out in the fifth and halted the Bulldogs scoring to just three in the inning. Instead, the error kept the inning alive and allowed KHS to add an additional four runs for a seven-run fifth, increasing its lead from 5-0 to 12-0.
"It comes down to great pitching. We're hitting the ball and we're not making any errors and that's a huge difference," KHS coach Dave Vance said. "In that losing streak we didn't have those three facets, it's just everything is going well now."
The Bulldogs (4-7, 3-5) began its winning streak on April 1 after dropping its previous seven in a row.
Michelle Bracy picked up the win going the distance. She gave up two hits while striking out three.
Weyermiller led KHS at the plate with a pair of doubles and Courtney Baranauskas added a double and a run scored.
Kingman jumped to a 4-0 lead after the first inning and added a run in the third before opening the floodgates in the fifth.
The Bulldogs play Deer Valley (11-2, 9-1) in Glendale Friday.