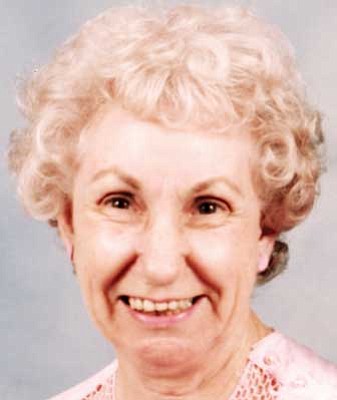 Originally Published: April 15, 2011 6 a.m.
Bernice was born Feb. 21, 1920, to Burton and Olive Siena in Amber, Grady County, Okla. Bernice graduated to her heavenly home on Sunday, April 10, 2011. She was the sixth of seven children.
When she was young, the family traveled around in three covered wagons, never staying long in any one place. She met and married Albert Briley in 1938 and to this union was born two daughters, Vickie and Veronica. She then moved to Kingman where she had family. She met and married Joe Bowling and to this union was born Tom Bowling. The family lived at the Kingman Army Air base housing off of Highway 66.
Bernice worked as a waitress in several city restaurants. She also worked for the Watsons at the Kingman Bake Shop. She took accounting classes and then went to work at Kmart in the accounting department and she retired from Kmart.
Bernice was very involved in the Kingman Foursquare Church. She taught Sunday school for many years and also served as superintendent. She was also church treasurer. She served under six different pastors, starting with Vernon Moore and ending with Norm Taylor.
She is survived by three children, Vickie Smith, Veronica Hett (John) and Tom Bowling (Phyllis); 12 grandchildren, 32 great-grandchildren and nine great-great-grandchildren.
Bernice was greatly loved by everyone who knew her and will be sorely missed.
The memorial service will be at 5 p.m. Monday, April 18, at Hilltop Foursquare Church, 2215 Emerson Ave.
More like this story