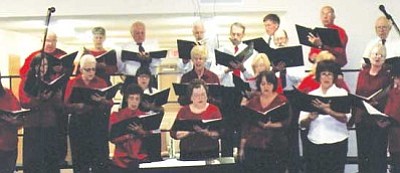 Originally Published: April 15, 2011 6 a.m.
KINGMAN - The Mohave Community Choir will close out its season with its "Sounds of Joy" Spring Concert Saturday at St. Johns Methodist Church.
The choir had to move from its normal venue, Good Shepard Lutheran Church, because its fans were growing in number, said Director Roger Johnson.
"St. Johns has nearly 300 seats and we hope to fill it," he said.
The concert begins at 7 p.m. The performance will include songs from "The Music Man" and "Carousel," several spiritual and patriotic numbers and a choral rendition of the William Tell Overture, made famous as "The Lone Ranger" theme song.
Guitarist Al Schultz, also known as "The Shadow," will also perform, and "Sing-sation," an a cappella women's group, will perform Sweet Adeline-type of music.
The choir's season runs from August to April. Those interested in joining are invited to attend the show or the next practice, which isn't actually scheduled until the first Thursday in August at Good Shepard.
St. Johns Methodist Church is located at 1730 Kino Ave. A donation of $10 for families and groups, $5 for adults and $3 for children and seniors is suggested. Part of the funds raised will be used for scholarships for students who pursue music education and performance in college.
Snacks will be served Saturday at intermission.