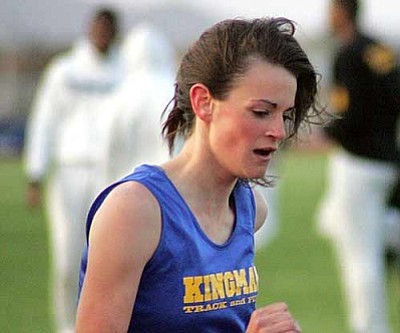 Originally Published: April 20, 2011 6 a.m.
KINGMAN - Paige Cardiff was disappointed with her showing in the 800 meters at the Westside Qualifier Saturday in Phoenix.
In her previous four meets, the Kingman High sophomore had dominated the event, including posting a state qualifying time of 2:23 at the Peoria Invitational on April 2.
Saturday, however, was a different story as Cardiff had little time to recover from her 3,200-meter race and finished third with a time of 2:24, seven seconds behind first-place Peoria Liberty's Ashley Kealamakia.
"I think she was disappointed," KHS coach Anne Bathauer said. "I wasn't disappointed with the three races that she ran, and she ran strong in everything."
Cardiff won the 1,600 with a time of 5:27, 10 seconds ahead of second place, Phoenix Pinnacle's Krista Goll, and placed second in the 3,200, 18 seconds behind Phoenix Greenway's Shayla Freeman.
"Paige is showing herself as being one of the top sophomores in the state," Bathauer said.
Taylor Reed finished fifth in the 800 meters with a time of 2:29 and 14th in the shot put.
"Every expectation I've given her (Reed), she's risen to," Bathauer said. "She is working hard and listening to her coaches on the throws and on the running side. She wants to be better, she works hard in practice and she sees the results at the meets."
Amber Tackett finished 11th in shot put, Tannia Winegar placed 10th in high jump and Sara Reed finished seventh in high jump and in 100-meter hurdles. As a team, the Lady Bulldogs finished eighth with 33 points.
On the boys side, the Bulldogs were still without the services of Willie Valdez, and it cost them. The Bulldogs finished 19th in team standings with the only top 10 placers coming from the 4x400 and 4x800 relay teams along with Cristian Gutierrez who placed fifth in shot put and seventh in discus.
"When Willie Valdez joins our line up we easily jump 30 points, which easily puts us in fifth-place range," Bathauer said.
Valdez has been out for the last few weeks with an illness but is expected to rejoin the team when they host their final home meet at 3:30 p.m. today with Phoenix Barry Goldwater and Sandra Day O'Connor.
Valdez is currently ranked in the top 20 in the 300-meter hurdles, 110 hurdles, long jump and triple jump.