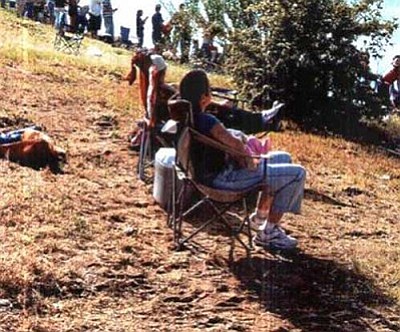 Originally Published: April 21, 2011 6 a.m.
The largest fishing event of the summer for kids is all set to go, according to Bob Kay, one of the organizers of the Fishing For Smiles event.
The Fishing For Smiles event is co-sponsored this year by the Kingman Elks Lodge, the Mohave Sportsman Club and the Arizona Game & Fish Department.
Kay is part of a committee that is made up of members of the Kingman Elks Lodge No. 468, Mohave Sportsman Club and AZGF.
Members of the committee from the Elks Lodge include Kay, Jerry Grimes, and Bill Schilling. Lainie Antolik and Matt Chmiel are AZGF representatives, and MSC president Steve Bell and I are representatives from MSC.
The one-day event is being funded through a grant that I applied for and received from AZGF.
With funding secured, it was time to meet and plan the event, which will see more than 200 kids from all over Mohave County have the time of their lives.
Sign-ups for kids ages 5-15 will start May 21 and will be held at the local Kmart store, 3340 E. Andy Devine Ave. Sign-ups must be done in person from 9 a.m. to 1 p.m.
Organizers will sign up a maximum of 200 kids.
After May 21 and depending on availability, sign-ups will be taken first-come, first-serve at Bob Kay's State Farm Insurance office, Jerry Grimes' East Side Shell and at the Region III office of AZGF.
The event will be held on June 4 at the main pond at the Yellow Pine Ranch, which is located on the east side of the Hualapais, about six miles south of I-40. Scott and Carrie Fisher, who are very supportive of kids fishing events, own the ranch. Due to the abundant winter and spring rains, the pond is to the point of overflowing.
There has been 1,000 pounds of channel catfish purchased from a vendor and those fish will be stocked in the pond in time for the event.
Every child who participates in this event will receive a new rod and reel, plus bags containing other fishing items that have been donated.
The Elks Lodge will be putting on a free hot dog and hamburger lunch for participants. While only the kids can fish, an adult parent or guardian must be with the children at all times.
There will also be a Kasting Kids event and for the first time, AZGF will be hosting a small fishing tank for young anglers up to five years old.
Sheriff Tom Sheahan, who is a huge supporter of this event, will be on hand to pass out his sheriff's trophies. Mohave County Supervisor Gary Watson, who is also a supporter of outdoor activities for kids, will be there awarding the trophies he is sponsoring.
If you have any questions about the event, give me a call at (928) 681-4867 or at awoguide@ctaz.com.