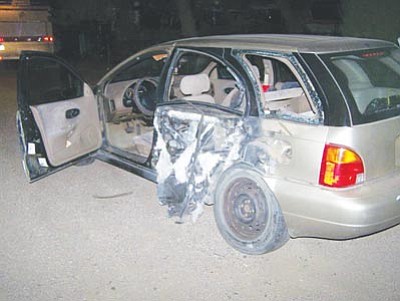 Originally Published: April 22, 2011 6:01 a.m.
KINGMAN - Authorities believe they have found the truck involved in a hit and run accident in north Kingman Monday night.
Kingman Police Capt. Rusty Cooper said a call came in to the Silent Witness line Wednesday afternoon from a resident who spotted the truck in an alleyway in the 100 block of Oak Street.
The truck had damage to the front bumper, headlight and hood, which would be consistent with being involved in the accident that occurred in the 2300 block of Lass around 10:30 p.m. Monday. A mother with her two young children inside said she was hit in the driver's side by the truck before it fled the scene.
The Mohave County Sheriff's Office is handling the investigation into the accident since it occurred outside of city limits. Spokeswoman Trish Carter said deputies contacted the registered owners of the truck, who said their 31-year-old son borrowed the vehicle on Sunday but hasn't been home since.
Deputies are now trying to track down the son. He is not being named because formal charges have yet to be filed.