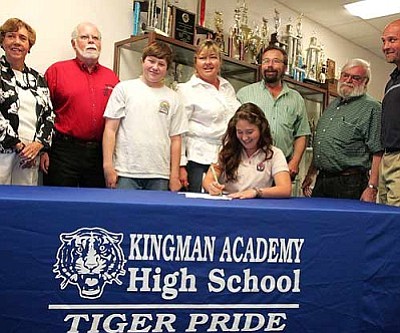 Originally Published: April 24, 2011 6:01 a.m.
KINGMAN - Madison Engels-Yarbrough's biggest fear about going to college was that she would have to give up her horses.
Engels-Yarbrough has been riding horses since she was 10 and has excelled through the ranks of 4-H, winning numerous jumping and showmanship honors at the Mohave County Fair and the Arizona State Fair.
So when she heard about the possibility of going to college on an equitation scholarship, she naturally jumped at the chance.
"I applied to all the schools that have an equitation team," Engels-Yarbrough said. "I traveled to New Mexico, and South Dakota State was the only one to offer me a scholarship and I got invited for an official visit."
Last week the journey that began by sending letters and videos, then waiting, hoping that those letters and videos would catch some recruiter's eye, finally came to an end when she signed a letter of intent with South Dakota State.
"We're so proud because it has taken so many people and so much time and so much effort and dedication," said Madison's mother Rhonda. "It takes so many people to get her here today."
With her signing, Engels-Yarbrough becomes the first student-athlete at Kingman Academy High School to sign a letter of intent at a NCAA Division I school, something that makes KAHS principal Jeff Martin proud.
"I think as a small school this is a big achievement," Martin said. "Our students are moving in the direction of athletic scholarships and academic scholarships, and we're very proud of them."
The district began in 1995 and the high school opened six years later in 2001. Currently, the high school has an enrollment of about 500 students.
"I hope it paves the road for more sports players," Engels-Yarbrough said. "I'm just an equitation girl, so I hope that football, basketball all have a future."
Her signing isn't just a first for KAHS but also a first for the local 4-H club, which has academic scholarship winners in the past but not an athletic scholarship.
"You don't think of equitation as being a sport that you would be able to get a scholarship from," said 4-H Extension Agent Gerald Olson. "There are scholarships in that, there are scholarships in rodeo and other sports too that are not the football, volleyball and soccer type of things."
Like her mom, Olson is also proud of Madison, who served in other areas of 4-H, including as a delegate to the National 4-H Congress in Atlanta in 2009 and a member of the National 4-H ACCESS website advisory team in Washington, D.C in 2008. She's also served as a camp counselor and co-camp director at 4-H summer camp.
"She serves as role model to many of our younger kids in both our equitation program and then our 4H leadership program," Olson said. "They look up to her, and hopefully they will follow in her footsteps."
Coming from a strong ranching family and taking care of animals, it's no surprise that Engels-Yarbrough has decided to major in pre-veterinary.
"When I was little I wanted to deal with dogs and small animals, then when I got involved with horses it changed," She said. "My step-dad is a rancher and from a ranching family. That got me interested in the cattle part."
As Rhonda describes it, the family does nothing but horses, and the whole family revolves around feeding and chores every day.
"We can't park the horses and put them in the garage," Rhonda said.
As Engels-Yarbrough finishes up her final few weeks of high school, the excitement of a new adventure and a new chapter in her life awaits her.
"I'm excited for a change," she said. "I've been raised in Arizona so it's hot and nice. I'm excited to go where there's three-feet of snow. I'll get the best. I'll be cold in the winter and hot in the summer."
While Madison looks forward to the change and the challenges of a college student, her mother isn't looking forward to the idea of her daughter being 1,548 miles away in Brookings.
"I think that's going to be really hard but it's like if your kid has a chance to be an Olympian, you can't stop them," Rhonda said. "You have to suck it up and do what you have to do on your end and let them fly."