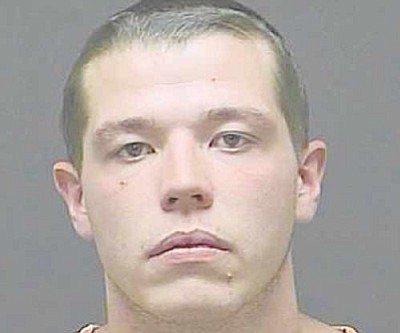 Originally Published: April 24, 2011 6 a.m.
KINGMAN - An armed robbery suspect was arrested after a brief standoff with police Friday.
Kingman Police Capt. Rusty Cooper said detectives went to the 2000 block of Mullen Avenue around 1:30 p.m. looking for 21-year-old Jake Matthew Leary. Leary is one of two suspects in an armed robbery that took place in the 2000 block of Fairgrounds Blvd. just before 6 p.m. Tuesday.
Cooper said that in that case, a man alleged to be Leary and another suspect assaulted the homeowner while demanding property. They reportedly used the victim's own gun to threaten him. The two suspects fled after someone came home and interrupted the robbery.
It's not clear how Leary was identified as a suspect. Cooper said that when police went to the home on Mullen Avenue Friday afternoon, Leary was standing outside and ran into the home as he saw police approach.
Cooper said police spent the next 30 minutes negotiating with Leary's girlfriend inside the home until Leary came out without incident. He was booked into the Mohave County Jail on charges of armed robbery, aggravated robbery and first-degree burglary.
Tuesday's armed robbery remains under investigation.
More like this story