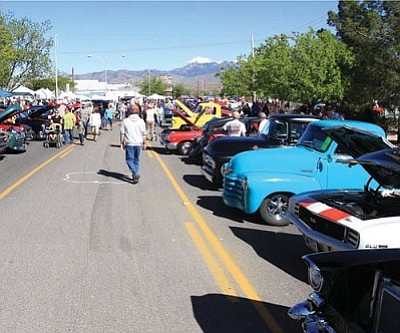 Originally Published: April 28, 2011 6 a.m.
KINGMAN - Classic car and truck fans will be out in force this weekend in honor of the 24 th annual Route 66 Fun Run.
The fun starts at noon on Friday with registration in Seligman. Some of the events scheduled Friday for Seligman include a digital scavenger hunt, a framed art raffle, a spaghetti dinner, music and the annual Cruisin' Route 66 Parade. Jan Davis of the Historic Route 66 Association of Arizona said the group already has 600 people registered and expects another 100 to 200 to sign up Friday afternoon in Seligman.
The annual pilgrimage on the longest stretch of the original Route 66 starts Saturday morning at dawn as the classic cars and trucks start to line up along the road in Seligman. Stop at the Aztec Motel at 7 a.m. for an all-you-can-eat pancake breakfast and to find out the framed art raffle winner. Angel Delgadillo will start the first car on the drive to Kingman at 10 a.m.
Along the route to Kingman, drivers can stop for a tour and bite to eat at the Grand Canyon Caverns. Tours will be running all day Saturday and hamburgers and hot dogs will be sold from 10 a.m. to 2 p.m. Live music will also be available.
Drivers can also grab a bite to eat at the annual Hualapai Tribe Pit BBQ and Indian Taco lunch across from the Hualapai Lodge in Peach Springs. There will also be live Native American dancers, music and arts and crafts. The Diamond Creek Restaurant will also be open for business. Raffle tickets are being sold for a chance to win Hualapai Tourism products such as Hualapai River Runners and a helicopter/boat ride at Grand Canyon West. The raffle will be held Saturday afternoon in Kingman, ticket holders need not be present to win.
Drivers can pick up a homemade pie, food and more fun crafts at the Frontier Café in Truxton Saturday.
Hackberry's famous Route 66 Visitor Center will be open for business selling cool refreshments and entertainment Saturday.
Drivers can also stop in Valle Vista for the annual Fireman's BBQ starting at 10 a.m., a craft and bake sale and to enter a raffle for a $100 gift certificate for the Route 66 Association Gift Shop. The winner will be announced at 4 p.m. at the Powerhouse Visitor's Center in Kingman.
Drivers will stop for the night in Kingman. Those drivers arriving between 9 a.m. and 5 p.m. will be able to tour the Route 66 Museum, the Mohave Museum of History and Arts and the Powerhouse Visitor's Center. There will be plenty of vendors, activities, music and entertainment in Locomotive Park and at the Powerhouse. Judging for the annual Show and Shine Car Show starts at 3 p.m. and runs until 5 p.m. The Route 66 Scholarship Dinner will start at 5:30 p.m.
The last day of the run is Sunday. Drivers can purchase breakfast starting at 7 a.m. from VFW Post 10386 at the Powerhouse Visitor Center. The vehicles will start their run toward Topock and Golden Shores at 9 a.m.
Along the way, they may want to stop at the restored vintage 1926 Mobile Station in Cool Springs. The shop will be open from 10 a.m. to 2 p.m. and offers a variety of gifts, beverages and treats for sale.
Drivers will want to be on the lookout for outlaws in Oatman.
The town will be providing live music, gunfights by the Oatman Ghostriders and Oatman Outlaws all day. The wild burros that live in the surrounding mountains may also make an appearance.
The end of the road trip is Topock and Golden Shores. Drivers will find food, vendors, raffles and plenty of entertainment provided by the Golden Shores Association between 11 a.m. and 3 p.m.
At 1 p.m., the winners of the annual Show and Shine Show will be announced.
For more information on the fun run, visit www.azRT66.com or call (928) 753-5001.