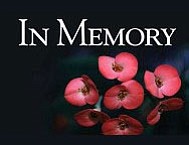 Originally Published: April 28, 2011 6:01 a.m.
Marian Lee McLaughlin, 69, of Kingman died Sunday, April 24, 2011, in Kingman. She was born Dec. 19, 1941, in Salt Lake City.
Visitation will begin at 11 a.m. Saturday, April 30, with the service at noon at the Church of Jesus Christ of Latter-day Saints, 3180 Rutherford Drive. Interment will be at Mountain View Cemetery, 1301 Stockton Hill Road.