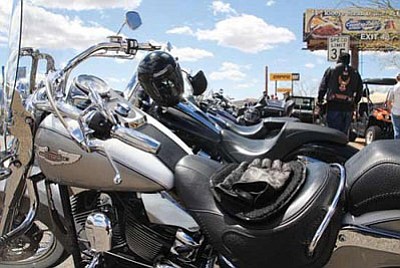 Originally Published: April 29, 2011 6:01 a.m.
KINGMAN - Motorcyclists from across the country are rolling into Kingman as part of the 29th Annual River Run.
John Boltz and Sheryl Gibson drove nine hours from Battle Mountain, Nev., as part of a caravan of two-dozen bikes that arrived in town Wednesday. This is Boltz's fifth run and Gibson's first.
"It's cold up there," Boltz said. "It's time to enjoy the warmer weather. It's just time to ride."
They said they had their hotel rooms booked some three months ago, which is good, considering most local hotels are sold out.
"I had a buddy try to get a room earlier this week but couldn't," said Russ Faltersack, sales manager for Mother Road Harley-Davidson in Kingman.
Mother Road was bustling Thursday with new arrivals looking to hang out, get their bike serviced and maybe even trade in for a newer model. Faltersack said earlier that morning, a Massachusetts man who rolled in traded his sportster for a Harley. He estimates the shop will sell around 30 new and used bikes this week.
Faltersack said around 4,000 bikers are expected to pass through today and Saturday. He said Kingman serves as a welcome detour from the main action in Laughlin.
"A lot of people just really enjoy getting out of the traffic in Laughlin," he said.
Mother Road will serve as a stopping point for the "Laughlin River Run Poker Run," which starts and ends at the Colorado Belle in Laughlin Saturday morning. Riders will collect five playing cards along the route, with the winning poker hands vying for $1,500 in cash and prizes.
Mother Road will have live music and food both today and Saturday.
Performance Specialists of Kingman will also host their 4th Annual "Kelly's Biker Palooza," starting at 11 a.m. Saturday at their shop on Olympic Drive at the Kingman Airport off of Route 66.
Events will include a swap meet, a bike show, a bike smash, a raffle to benefit the Boys and Girls Club of Kingman, food from Porky's Pit BBQ and live music from rock band "3-D."
Admission to the Kingman events are free but food and drink are extra.
The River Run is said to have originated out of an annual trip made by a Harley Davidson dealer from San Bernardino to Don Laughlin's Riverside Resort. Over the years the number of riders grew and became more organized and now, the week attracts some 30,000 bikers from all over.
Nearly all of the establishments on Casino Drive will be hosting events, with the official registration taking place at the Riverside Resort from 8 a.m. to 8 p.m. today and 8 a.m. to 2 p.m. Saturday. Registration fee is $25 per rider and includes the official 2011 T-shirt, 2011 ride pin, admission to the Route 66 Poker Run, entry to the custom bike show and Ms. Laughlin River Run contest.
Most don't even bother with registration for the actual event but take to the roads to visit surrounding areas such as Kingman and Oatman before converging on Laughlin.
With so many motorcyclists sharing the roads this weekend, law enforcement agencies have taken a "hope for the best, expect the worst" attitude. They've increased their presence on the roads to help prevent accidents and be at the ready for possible emergencies.
The Arizona Department of Public Safety has increased its presence with additional highway patrol officers as well as detectives from the state gang task force and units from the Criminal Investigations Division. Although riders have been pouring into northern Arizona all week, DPS Officer Robert Bailey said there had been no significant incidents involving bikers as of early Thursday afternoon.
On the other side of the river from Laughlin in Bullhead City, firefighters prepared by running through various accident scenarios involving multiple patients. The Bullhead City Fire Department has a Mass Casualty Trailer that can handle more than 100 patients at a time.
"In any turn lane we may see eight, 10, or 20 motorcycles," said Training Division Chief Bill Kinsey. "This could be motorcycle enthusiasts or potential patients. A small rear-end collision has the probability of many patients. We have to be prepared for the worst traffic incident, while hoping it does not occur."
Authorities are reminding bikers to remember the rules of the road. Helmets are not required for riders over 18 in Arizona, but Nevada and California both have mandatory helmet laws. Motorists are also reminded to exercise caution as they share the road.