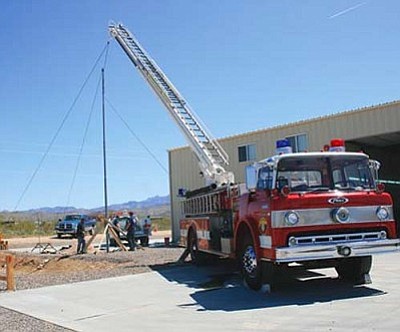 Originally Published: August 3, 2011 5:59 a.m.
KINGMAN - Golden Valley residents are invited to a special open house at Fire Station 12 this Friday night to meet the five final candidates vying for the fire district's assistant chief position.
Two of the five candidates are from Arizona, including one from the department itself. The others are from Maryland, Illinois and Pennsylvania. They will undergo the same three days of physical, written and oral testing the first group of candidates underwent in April.
Those candidates were scrapped, and Golden Valley initiated a new search after those four conspired to finish a wildlife pack test at the same time.
Golden Valley Fire Chief Tom O'Donohue said rather than following instructions, the men decided not to cross the finish line until the final man finished, which set them all 21 seconds behind the 45-minute mark.
O'Donohue, who served as assistant fire chief until the departure of Chief Paul Hewitt, said the men's decision didn't sit well with the firefighters, the same employees the assistant chief would be supervising.
That interview process cost the department around $2,000, but O'Donohue said at the time that he'd rather lose that investment than hire someone who had already managed to lose the respect of the firefighters. He said all of the firefighters agreed that the department needed to reopen the process.
Capt. Dave Martin has been filing in on the administrative side during the search for assistant chief. He is among one of the five finalists. The other Arizona candidate is from Pearce.
Friday's meet-and-greet will be held at 6 p.m. at Fire Station 12, located at 749 S. Egar Road.