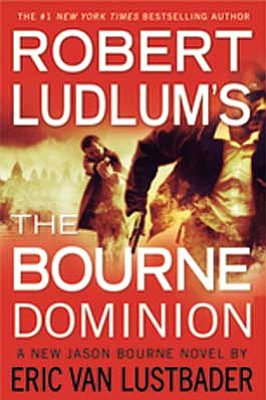 Originally Published: August 5, 2011 6 a.m.
"The Bourne Dominion" by Eric Van Lustbader; 978-0-446-56444-1; 432 Pages; $27.99; Published: July, 2011; Hardcover; Novel; Grand Central Publishing
Robert Ludlum, who died in 2001, originally created the character Jason Bourne. Carrying on in the spy-tingling tradition of fast-paced action is author Eric Van Lustbader. He has written so many books it is impossible to list them all and have space left over for a column.
Continuing the Jason Bourne adventures, "The Bourne Dominion" is in a league of its own when it comes to fast-paced graphically described action. As you read this book you often feel as though you can see, smell and touch the scenes as they unfold.
Followers of Jason Bourne know his skills, methods and how he interacts with the bad guys. He is rough, tough and trained to be the best of spys. He possesses an intuition which continues to save his life. He ducks bullets, dodges fists and demonstrates his extremely adept driving skills. Despite continuing to use his traditional disguises, he still cannot escape recognition as Jason Bourne.
His age-old friend General Karpov of Russian Intelligence becomes Jason's nemesis with strict instructions to kill him. As the story progresses, we are treated with scenes depicting this seemingly old General as still having the skills necessary to challenge Bourne when he encounters him.
Van Lustbader has the ability to write compelling dialogue that thrusts the reader into action with visually descriptive passages. In this novel, blood and guts are the norm rather than the exception. Terse adult dialogue is found throughout, but the words make the story believable. Matt Damon played Jason Bourne in past films, and we hope he will again.
One of the most outstanding features of Eric Van Lustbader's writing is how he blends so many players in each chapter without interfering with the plot. He has developed each individual in great detail. It is not difficult to follow them and their roles which play out in various countries. Columbia and its intrigue comes to life with explosions, helicopters, guerilla warfare and an escape which leaves you turning pages to find out what happens next. Going from continent to continent is a wonderful summer escape.
Clarity of expression makes this suspenseful novel a great spy mystery. A wonderful feature is the manner in which Van Lustbader keeps all the characters active in every chapter. Reading about what one person is doing is followed by a few paragraphs later by what others are doing in different parts of the world. All players are in play at the same time, but are following the trajectory which will lead to their ultimate confrontation.
It's an adult book, highly recommended to those who love a mystery encapsulated in a 5-star book.
Publishers Weekly
Best-Sellers
Fiction
1. A Dance with Dragons: A Song of Ice and Fire, Book 5; George R. R. Martin
2. Portrait of Spy; Daniel Silva
3. Happy Birthday; Danielle Steel
4. Split Second; Catherine Coulter
5. Now You See Her; James Patterson & Michael Ledwidge
Non-Fiction
1. A Stolen Life; Jaycee Dugard
2. Go the F*** to Sleep; by Adam Mansbach with illustrations by Ricardo Cortes
3. Unbroken: A World War II Story of Survival, Resilience, and Redemption; Laura Hillenbrand
4. In the Garden of Beasts: Love, Terror, and an American Family in Hitler's Berlin; Erik Larson
5. The 17 Day Diet; Dr Mike Moreno
Clark Isaacs is an accomplished book critic who is published in local newspapers and national book review lists. He is a member of the faculty of Mohave Community College in Kingman.