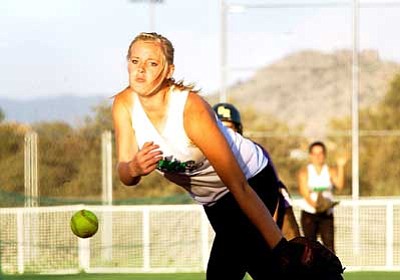 Originally Published: August 7, 2011 6 a.m.
PRESCOTT - After coming back from a 10-4 deficit Thursday night in pool play to win 14-13 over the Tucson Scramblers, the Kingman Sidewinders opened bracket play of the 16U Western National Tournament Friday morning with an 11-3 loss to Corona.
However, after being bounced to the losers bracket, the Sidewinders responded by scoring five runs in the bottom of the third inning en-route to a 9-1 win over Outlaws Gold Country.
"I think we came in thinking that after we won the game last night, that we could come in here and do this so easy," Sidewinders pitcher Rachel Arave said. "We need to focus no matter what team we play."
Arave pitched a complete game, giving up one run on four hits. She struck out four and walked two.
"She does not throw hard," Sidewinder coach Dave Vance said. "She has been outstanding for us the whole summer. She keeps us in ballgames."
The Sidewinders answered the Outlaws run with a run of their own in the bottom of the first inning and added three in the second before exploding in the fourth.
Destiny Bedow led the Sidewinders at the plate, going 2-for-2 with a double, and Hannah Vance, Courtney Barahauskas, Shelby Dugan, Raenay Wilson, Taylor Olivas and Toria Williams each had hits.
"The tournament has been really good," Vance said. "We have 13 girls here and five of them are actually 14U and I think six or seven of them are in middle school or freshman, going into their sophomore year."
The win kept the Sidewinders alive in the tournament, but they couldn't capitalize on the momentum Saturday morning as they were eliminated in a 16-1 loss to the Lady Bombers.