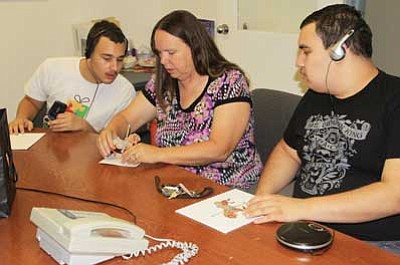 Originally Published: August 11, 2011 6:01 a.m.
KINGMAN - As is a private caregiver that provides respite and rehabilitative care for two families with children that suffer from autism, Joan Bandel has one of the most challenging and demanding jobs in the city, and she loves every minute of it.
In honor of all of her hard work, Bandel will be presented with the Department of Economic Services Division of Developmental Disabilities Caregiver of the Year Award in Phoenix on Sept. 14.
"I wouldn't be able to work full-time without Joan," said Trish Cobb, the mother of Cosena and Kerry Barnett, two boys Bandel has worked with for the last 12 years. Cobb said before Bandel came along, she was working part-time and trying to take care of not only Cosena and Kerry, but her other children as well. She relied on her mom and her older son and his girlfriend for help in getting the boys to doctor and therapist appointments.
Cobb said she still relies on her family for help, but Bandel has taken a lot of the load off of her shoulders.
"She spoils me, sometimes she makes them lunch, picks them up from school and takes them to their therapist appointments," Cobb said. "She will go to great lengths to get them what they need, even at school. She's not afraid to try anything that might help them. I would be lost without her. She's really a member of the family."
Taking care of children with autism can be quite challenging. Autism is a brain disorder that makes it difficult for people to communicate or relate with others. The Center for Disease Control estimates that one out of every 110 children in the United States is born with some degree of autism.
The exact cause of the disorder is unknown and people diagnosed with autism have a wide range of symptoms. Some do not speak, others repeat the same phrases over and over, some have highly developed skills in music and the arts or numbers, and some have a strong need for routine.
"It's as if some of their senses are heightened," Bandel said. Certain sounds, smells, sights or textures can also upset them greatly. The trick is to find out what is causing the reaction and find a way to deal with the situation.
For example, Cosena and Kerry love to finger paint. They even won Best in Show at the Mohave County fair a couple of years ago for their artwork.
However, they don't care for the feeling of paint on their fingers. Bandel found a solution for the problem at a day camp for children with autism. An instructor at the camp squirted paint on a canvas and then placed plastic over the canvas so that the kids could move the paint around without getting it on their fingers. Bandel took the idea one step further and put the canvas inside a gallon-sized plastic bag and sealed the bag.
Communicating with autistic people can also be a challenge, Bandel said. Sometimes you have to be very specific about which words you use.
For example, when she and the therapist were trying to teach Kerry the color orange, they used a piece of fruit and a sheet of orange paper. Kerry got confused. How could both things have the same name? They had to start referring to the items as "orange fruit" and "the color orange."
Sometimes you have to come up with another way of saying things. For example, many people with autism don't understand the word "don't," Bandel said. "You tell them 'don't run' and they start running. You have to say 'walk.'"
A lot of people with autism pick up on the body language and mannerisms of other people, Bandel said. They may not exactly understand the words you are saying to them, but they understand what you're trying to tell them.
"You have to learn how to listen with your eyes and your hands and your other senses," she said. People with autism have a very different way of looking and communicating what they see in the world. They often use gestures or facial expressions instead of words.
"Cosena knows when I'm upset with him. He'll get right in my face and scrunch his face up into a scowl and then give me a big smile as if to say, 'everything's alright now right?" Bandel said.
She said she and the boys do get some looks when they go out in public, but the community has become much more welcoming in the last few years. People nowadays are more likely to ask if she or the boys need help rather than shy away.
"Sometimes it can cause problems if someone reaches out to help without asking," she said. "They're just like everyone else. They just have a different way of communicating." Working with people who have autism can be a challenge, Bandel said, but at the same time it's incredibly rewarding.
One of her best rewards, she said, was helping the girl she works learn to walk at the age of 14.
"I'm rewarded everyday with every little achievement they make. It makes me feel good that I'm able to help. If they're not learning, then I'm not teaching," she said.
Bandel said she has been working with children since she was just a child herself. She was the one that watched all of the children in her family during family get togethers. She also helped her mother take care of her grandmother, who was born without a hip socket. In fact, it was her grandmother who encouraged her to become a caregiver.
Bandel said she was working at Carl's Jr. more than 12 years ago, when the management changed and she didn't like the new manager. She spotted an ad in the newspaper for caregivers willing to work with children who needed a little extra help. She brought it home to her grandmother who said the job was perfect for her. Bandel said she hasn't looked back.
"People tell me that I will be blessed in heaven for my work. I say I'm blessed everyday. These kids are like my own children and grandchildren," she said.
For help in finding a caregiver like Bandel, contact the Division of Developmental Disabilities at (866) 229-5553.