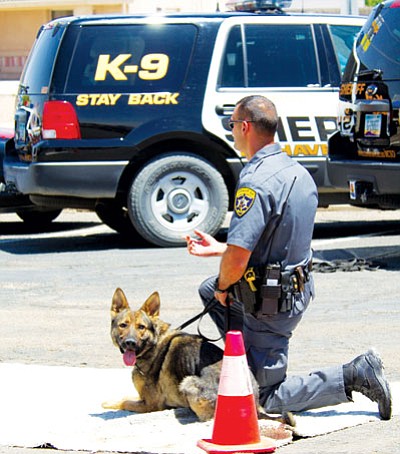 Originally Published: August 11, 2011 6:01 a.m.
KINGMAN - The most feared law enforcement officer isn't the one carrying a badge and a gun, according to Sgt. Raja Karim with the Mohave County Sheriff's Office.
It's the one who chews on raw hide and likes to fetch a rubber stick.
"When (a suspect) knows the dog is there, 99 percent of them give up," Karim said.
Karim is one of five deputies with the Sheriff's Office who also serve as handlers for the department's K-9 unit. The program is funded entirely through donations, and given the situation, the four-legged detectives can sometimes yield better results than their two-legged counterparts.
"We get a lot of arrests that we wouldn't have made without the dogs," Karim said.
Karim is the handler of Ganto, an 8-year-old German Shepherd with more than five years of law enforcement experience under his collar.
Ganto is frequently called out for vehicle searches, but he has also played a large role in the capture of some suspects that would have otherwise eluded officers. Several months ago, a suspect being booked at the Kingman Police Department was able to wiggle out of his handcuffs and bolted out a side door.
Karim got the call as he was on his way home and turned around to join the search. He pulled up and started talking with officers who had congregated across the street from the police station where the man was last seen.
It took Ganto just a matter of seconds to find the suspect, who had completely obscured himself from view behind some bushes.
"There were patrol cars parked just 30 feet from where he was hiding," Karim said.
Suspects can pick such good hiding places that law enforcement has a hard time finding them even when they know where they are there. That was the case several years ago when three suspects tripped a silent alarm at the Central Commercial Building in downtown Kingman.
Police had surrounded the building and knew there was no way the suspects could have slipped out, but despite a thorough search the men could not be found. Ganto was sent in and after reaching the top floor, alerted to the ceiling. Searchers swept the area again, including the roof and air conditioning vents, but they still couldn't find the men. Ganto, however, never wavered in his alert.
Finally an officer took a pole and poked it in the ceiling, nearly taking out one of the suspect's eyes. Once again, Ganto got his man, which of course triggered a sense of pride in Karim.
"It's like when your child does something neat, like throws his first touchdown," he said.
Of the Sheriff Office's five dogs, three are German or Czechoslovakian Shepherds and one is a Belgian Malinois.
The dogs are obtained through American vendors but are bred and trained in Europe, where dog training competitions are so popular they attract thousands of spectators.
"They are not being bred to sit on the couch and watch TV or to be the best house pet," Karim said. "They are breeding them to be sports dogs."
The dogs aren't trained in police work before their arrival to the states but have the ingrained qualities law enforcement agencies are looking to cultivate, he said. Many people try to donate their dogs to the K-9 program thinking their well-behaved pup would make a good police canine. But because so much work, effort and expense is invested in the animal and its training, Karim said most police agencies stick to animals sold through the vendors that come with a sort of warranty should the animal get sick or experience other problems. The animals themselves cost around $12,000, with another $10,000 or so spent on their training.
All of those fees, in addition to the dog's veterinarian bills, are covered by private donations. The K-9 Unit program is supported entirely by donations and fundraisers, such as the doggie wash at Kingman Animal Hospital Saturday.
The biggest quality Karim said he looks for when selecting dogs is a large "play drive." Since the dogs will be rewarded with their toy each time they successfully sniff out their target, it's important that they want the toy in the first place, he said. A dog with only a so-so interest in its toy won't have the drive necessary for police work.
"They are one-track minded," Karim said. "They're thinking 'toy.'"
Four of the Sheriff's Office dogs are trained as dual-purpose canines that can sniff out narcotics and suspects, while the one that works with his handler at Kingman High School is only trained in drug detection. The dogs are trained to recognize the scent of four main groups from which nearly all drugs are derived: marijuana, methamphetamine, cocaine and heroin.
"They have the mentality of a 2 to 3-year-old, but we train them like an Olympic athlete," Karim said.
Narcotic dogs are taught to give their handlers "aggressive alerts," which include scratching frantically at the area they hit on. Dogs trained in arson or bomb investigations will give "passive alerts," and simply sit and stare at the area they are hitting on since an animal scratching at a bomb would obviously not be very smart. Either way, Karim said, the dogs will almost always have a visible change in their behavior that a trained handler will be able to read immediately.
The Sheriff's Office dogs are utilized by other agencies, including Kingman Police, the Department of Public Safety and other agencies in surrounding cities. Peach Springs and the Hualapai Tribe have their own dogs.
No one's quite sure how much more powerful a dog's nose as compared to a human's, Karim said. He's heard anywhere from 10,000 times to 1 million times more powerful. But perhaps more importantly is the fact that the dogs are smelling individual scents rather than their combined affect, he said.
Karim said when a person smells beef stew, they're smelling the overall aroma, whereas the dog differentiates each individual ingredient. It's why drug transporters' efforts to thwart the dog by putting the contraband in coffee or covering it in cayenne pepper don't work. The dog still smells the drugs, he said.
It's important to note that the dogs are indicating to the odor of drugs and not necessarily their presence. It's not known how long those scents linger but many times suspects will admit to smoking drugs up to three weeks before their traffic stop by officers. That's supposing that the suspects are being truthful, Karim added.
More often than not, however, if law enforcement keeps looking, they'll find something. Ganto once hit on a car's tailpipe, but it was only after the car was transported for an additional search that police found several kilos of cocaine stashed in a hollowed out compartment underneath a freshly installed windshield. Often though, just the presence of the dog is enough for suspects to call it a day. Karim said motorists will sometimes hand over their drugs once they see the dog, or suspects will come out of their hiding spot once the announcement is made that the dog is about to be released.
Karim said that in the 1980s and 1990s, many police dogs were dying in the line of duty by being shot by suspects after the dogs were used more as a use of force rather than a locating tool. That has changed after agencies reformed the way they look at the dogs. The Sheriff's Office dogs do not wear bulletproof vests, but deputies are careful not to send them on what would amount to a suicide mission for them, Karim said.
Most police dogs retire around the age of 8, at which point they frequently become their handler's house pet.
Mohave County Sheriff Tom Sheahan praised the K-9 program and the commitment the handlers take on as pet owners in addition to their regular duties. While the deputies' salary and vehicle are paid for by the department, "it is the outstanding support of our citizens that keeps the K-9 program going."
Those interested in seeing the K-9's detection skills firsthand are invited to Saturday's dog wash fundraiser at Kingman Animal Hospital on Northern Avenue, where Ganto and Karim will meet with the public.