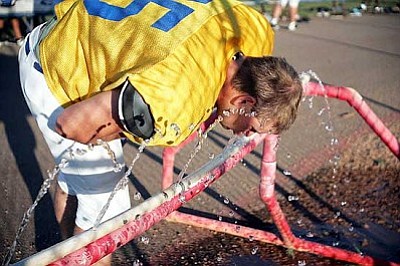 Originally Published: August 12, 2011 6:01 a.m.
KINGMAN - When it comes time to determine if the Kingman High football team will practice at 4 p.m., the decision doesn't lie with coach Rob York.
Instead, that decision lies with KHS athletic trainer Jenny Harpest.
Harpest will use a wet bulb thermometer to determine if the heat index is safe to practice outdoors. If it's not, watching game film or even study hall sessions are options.
"Really, it's a whole combination," Harpest said. "There is a flow chart that I have to use with the actual temperature and the humidity mixed together which tells me where it's at and tells me when to actually cut it off."
Harpest added that generally if it's over 100 degrees then players can't be in football gear.
According to the flow chart Harpest uses, there are no limitations for anything that is under 80 on the heat index, while it is advised to use caution for anything from 80-89. Anything from 90-104 is rated for extreme caution, and anything over 105 falls in the danger and extreme danger range.
Last week, the Bulldogs didn't have to worry about the heat index as they practiced in the morning and evening. With school starting at KHS this week, the team had to move practice to the late afternoon, typically the hottest part of the day.
While practicing in the heat isn't something new for KHS, what really drew the concern for officials was the fact that practice was moved up a week earlier than normal.
"Going a week early in August that is a little concern," KHS athletic director Tim Casson said. "We are just trying to be very cautious."
During Casson's time at KHS, he doesn't recall of any serious problems with players having heat-related incidents during practice.
However, so far this year nationwide there have been three heat-related deaths during football practices.
For Kingman Academy coach Eugene Kramer, the simple solution is water.
"Water, water, water. We have managers that are walking around and squirting some water throughout the day," Kramer said. "(The players) have the freedom that anytime they need a drink of water, they can go over there and get a drink."
For KAHS, the idea of practicing this early in August isn't anything new, Kramer said
"They have to get used to it and you just have to know if it's excessive," Kramer said. "We need to know if we are pushing them too hard."
While Kramer gives his players the freedom of getting water anytime they want, York won't let his players go a half-hour without getting a drink. When there is a water break, York makes it mandatory for the players to get a drink.
"They are getting enough water breaks and (York) gives them enough time for everyone to get over there and get one. He actually enforces the fact you can't opt out of it," Harpest said. "Everyone must get a drink, and that's more then what I can ask for."
Unlike other parts of the country that have been dealing with excessive heat and humidity, Mother Nature has been kinder here. It has allowed for no interruptions of practices. But as the football season moves forward and the monsoons become more active, things could change and cause the Bulldogs to delay practice, which for York could be a good thing.
"It's a precaution that we have to take," York said. "If we have to push practice back then that gives us a little more time where we can do film or chalk talk, or when school starts an extra half hour where we can do classroom and make them do homework."
York admits it can create some problems, as players will have to try and track down parents to let them know that practice will be running late. But it's a minor problem compared to the bigger picture.
"All it takes is one thing and it spurs a big thing," York said. "It's never been a real big problem since I've been here."