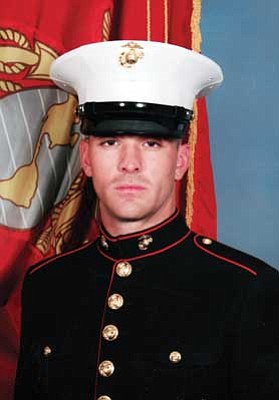 Originally Published: August 12, 2011 6:01 a.m.
KINGMAN - Jordan Maynard, the Kingman Marine who lost his legs to an explosion in Afghanistan, will be back in town Saturday.
The Patriot Guard Riders, a national organization of motorcycle riders who show "unwavering respect" for military personnel who risk their lives by serving in the armed forces, will honor Maynard's arrival with a motorcycle ride around town.
Riders plan to meet at 8:30 a.m. at Lombardo's Sicilian Grill, and then head to the home of Maynard's mother, Angela Patterson, to pick up Maynard and then make a circuit of Kingman, ending at Kelly's Performance Specialists, 4906 Olympic Way.
People will have a chance to meet Maynard there and show their appreciation. Bashas' will be donating donuts and Beale Street Brews will be providing coffee.
Expect Maynard and the riders to arrive at Performance Specialists between 9:30 and 10 a.m.
On Sunday, Maynard will return to San Diego where he continues to rehabilitate and now lives with his wife and son. Maynard is still on active duty with the Marines and plans to return to Afghanistan to finish what he started, sister Chelsea Curry said.