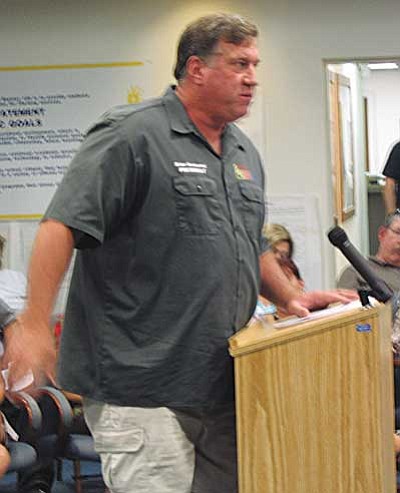 Originally Published: August 14, 2011 6:01 a.m.
KINGMAN - After a one-year absence, the Kingman Street Drags will return the last day of September, but the use of Lee Williams High - for participant parking and spectator bleachers - is out of the question due to construction issues.
The Street Drags, which are put on by Route 66 Wings and Wheels, previously used the now-demolished former campus of White Cliffs Middle School as a staging ground for racers and as a place for spectators to park and find seating in years past. That wasn't possible last year, when that area was fenced off as contractors were in the middle of construction of Lee Williams High.
That forced Wings and Wheels President Brian Devincenzi to cancel 2010's Street Drags, with the expectation that once the high school's construction ended, the event - and use of Kingman Unified School District property - would be back on.
Fast forward to July's KUSD Governing Board meeting, where discussion between KUSD and Route 66 Wings and Wheels regarding use of certain grounds and parking lots at Lee William High took place.
Devincenzi said one member of the Board, Jeri Brock, was not in attendance and another member, Bill Goodale, was on the phone during the discussion. The Board voiced several concerns about the use of Lee Williams High for the Street Drags and in the end voted to not allow the school to be used for the event, Devincenzi said.
However, the fact that KUSD will not have possession of the property till Oct. 3 - the day after the completion of the drags - makes it so the district cannot make any commitments to Devincenzi, said Board President Pat Carlin.
The date Core Construction hopes to turn over the facility to KUSD has changed several times due to unforeseen circumstances. The latest focuses on Americans with Disabilities Act compliance. Among other things, a stairwell participants and spectators would use for the street drags event is out of compliance and needs to be reworked, Carlin said.
Bill Cox, executive vice president of Core's Arizona offices, said Lee Williams is "just about there." There is a possibility Core could be done with the project sooner, Cox said. He was unwilling to give a date for possible completion other than the Oct. 3 certificate of occupancy deadline that was most recently set.
"We've never missed a deadline in our careers," Cox said.
The other concerns the Board brought up included the thought that the new hydro-seed grass would be damaged by the bleachers, the possibility of asphalt being ruined in the "staging area" and the hope that students get to be the first ones to use the new school. All of these concerns are unfounded and can be dealt with, Devincinzi said.
Side issues
But Carlin said those concerns are side issues that aren't relevant until KUSD has possession of the property. Once the district receives its certificate of occupancy, the discussion of those issues can take place, Carlin said.
Devincenzi believes the Oct. 3 date is being used as an excuse to keep Wings and Wheels from using the facility.
Carlin disagrees.
"Our date has nothing to do with their date," Carlin said. "It's just the way things fell."
"I just can't swallow this," Devincenzi said. "I feel it's wrong."
This is a profound loss to the community, Devincenzi said. The event is a substantial revenue raiser, and it also brings a lot of business to the community.
Without the use of Lee Williams High, Wings and Wheels will be short 200-400 bleacher seats for spectators, which get sold for $10 a pop. Also, since Wings and Wheels traditionally used the school grounds for participant parking, the whole parking situation for spectators and participants will need to be changed, meaning more downtown surface streets will need to be used, Devincenzi said.
For 11 years off and on, the street drags have been a late summer/early fall mainstay, and in recent years, events drew approximately 15,000 people. It has done nothing but grow every year of its existence, Devincenzi said.
Airport off limits
Wings and Wheels is a non-profit organization, and money made is largely dedicated to finding a permanent home in Kingman for motor sport events, Devincenzi said. Wings and Wheels can't use the airport due to Federal Aviation Administration regulations, and as seen in recent discussions regarding permanent dirt racetracks, the fairgrounds are out of the question. Wings and Wheels wants its own piece of property, Devincenzi said.
At Tuesday's KUSD Board meeting, Wings and Wheels supporters turned out in full force to have their say. Devincenzi was there as well. He said one Board member told him she wanted to rescind her previous vote to not allow the event to use Lee Williams and complained that the Board refused to follow "Robert's Rules of Order," a recognized guide to running meetings effectively and fairly.
Following rules
However, "Robert's Rules of Order" specifically explains that government law, established bylaws and rules of proceedings adopted by a committee or group take precedent over "Robert's Rules."
"We're following our policies and procedures," Carlin said. "We made a decision and gave it to administration. That's what we're following."
No Board member has asked to rescind his or her vote, and that's where it stands, Carlin said.
Laurie Barthlow, the member who allegedly wanted to rescind her vote, said Devincenzi misstated the situation.
"There is no mechanism in place for me to rescind my vote," Barthlow said.
Though she didn't fully grasp the situation at first, she does now. This is a construction issue, and there is no way for KUSD to accommodate Wings and Wheels, Barthlow said.
"I tried to help," she said. "I urge (Wings and Wheels) to get whatever backup plans they have in place."
Carlin explained that the discussion would not be revisited. The decision has been made, Carlin said. KUSD cannot commit a facility it doesn't have in its possession, he added.
"It's unfortunate, but it's just how it worked out," Carlin said. "Next year, we'll look at it again."