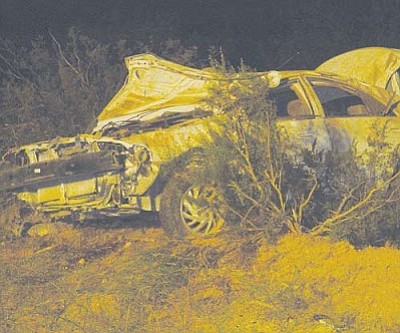 Originally Published: August 16, 2011 6 a.m.
KINGMAN - The Mohave County Sheriff's Office said a car may have been traveling close to 100 miles per hour when it crashed Friday night, killing the driver.
The fatality occurred on Pierce Ferry Road at milepost 20.5 just before 11 p.m. Sheriff's Spokeswoman Trish Carter said the driver of the car, a 67-year-old Meadview man, had been in an accident minutes prior. He reportedly was eastbound when he crossed the centerline and grazed an oncoming car with a group of German tourists inside.
Both parties stopped but the 67-year-old man got back into his Ford Escort and fled the scene at a high rate of speed, Carter said.
The Escort rolled several times as it was going into a bend in the road and ended up on its wheels. The driver was ejected from the vehicle and pronounced dead at the scene.
Carter said investigators put preliminary speeds at more than 90 miles per hour. The victim's identity will be released after next of kin has been notified.
The accident remains under investigation and the Sheriff's Office said alcohol may have been a factor.
None of the German tourists in the other car were injured.